98 Things Facebook Knows About Your Prospects
Facebook knows everything about its users! Ok, well not everything, but almost everything. Facebook knows enough information so you can find your perfect prospect on its platform. That is if you know how.
There are 98 different categories of information Facebook has on each user, and some of those categories are broken down into many other categories.
For example, there is a category called "Interests." Interests are made up of many things including the pages that you like on Facebook. So if you like 100 pages, that is an additional 100 more pieces of data Facebook knows about you. So the 98 things quickly become 198 things.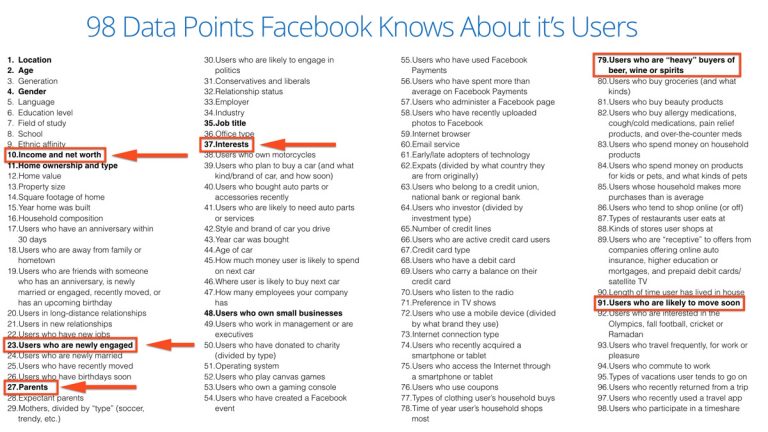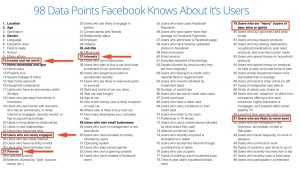 There are 3 primary sources of data Facebook uses to build a profile for its users:
Facebook Data
Profile data
Facebook uses the data users enter into their profile information for marketers to target them using Facebook ads
Interests
Every time you like a page, Facebook is using that information and building a profile on your interests.
Behaviours
Every comment, share and post like is recorded and the data is mined into the 98 categories of information that Facebook knows about each user
Location
Facebook can find out your location using:
Location services on your phone or computer
The location you enter into your profile
Connections
Every friend you connect with and their interests and data gives Facebook more of an insight into the type of person you are.
3rd Party Data
Facebook also buys data from three companies.  They are Acxiom, Quantium and Experian. These three companies collect their data from over 300 data sources. 200 of those data sources are companies who provide data from their from their client base.
Facebook takes this 3rd party data and matches it with the email address and phone number in Facebook to expand its data on each Facebook user.
In Australia some of the companies Facebook buys data from are:
Woolworths – So when you scan your rewards card at the checkout now you know what they do with the record of what you bought
National Australia Bank – This is probably how Facebook knows how much you earn and if you have a mortgage or not
Foxtel – Foxtel could be providing all your entertainment information to Facebook
Core Logic – Know a lot of information about the property market in Australia and could be how Facebook knows how long you've lived in your house and if you're likely to be moving or not
Australian Bureau of Statistics – This is how Facebook knows how many kids live in your house and how old they are
Your Data
Finally, there are two types of data that marketers add to the Facebook platform that Facebook uses to build user profiles:
Website Data
Marketers can install the Facebook Pixel on their website. This is a small piece of code that's added to every page of their website. Once this pixel is installed Facebook is able to track every visit a Facebook user makes to your website if they are a Facebook user. This helps Facebook build a deeper profile of each user. The data also helps the marketer to show ads specifically to people who have visited their website
Client Data
Facebook marketers are able to upload the email addresses, names, phone number and location of their customers into Facebook. Facebook will match these details with the data of actual users on the platform and attempt to identify each one.
Once this occurs, Facebook now knows if a user is either a client of the business or at least in their database and adds this information to their profile data. Marketers can then show specific ads to each of these customers.
Conclusion
Now that you know how Facebook gets the data on you and your prospects you can either get a little freaked out, or you can use this information to create a perfect ad to show to your perfect prospect.
Let me know in the comments below which categories out of the 98 are most useful to your business and creative ways you can use to target your prospects now that you have this information.