7 Ways to Promote a Webinar Online
Webinars are a great way to attract new prospects and convert them into clients. When executed well a webinar can become the main sales engine for driving new clients to a business. The biggest challenge stopping businesses from making webinars successful is the ability to attract enough registrations.
To turn a webinar into a sales engine you need two main things:
The webinar has to be recurring, so you hold it every week, bi-monthly or monthly
You need to promote the webinar so it fills with new prospects every time it runs
Attracting webinar registrations can seem daunting if you don't have experience, but it does not have to be. Below are my tried and tested methods for attracting new prospects to sign up for a webinar.
1. Facebook ads
Facebook Ads are my #1 way to fill a webinar. I always choose Facebook Ads as my first tactic because:
They are Cheap
I have run many Facebook campaigns and depending on the industry I have been able to secure new registrations for $1 – $5 per signup. That is incredibly cheap as once I secure a signup I have their email address so I can stay in touch even after the webinar is over.
They are Predictable
Once you have your webinar campaign optimised you can almost predict how many sign ups you will receive for every $10 or $100 you spend on the platform. On a recent campaign, I knew that I was paying $1.5 per sign up, so I put in $150 and received around 100 signups over a 48 hour period.
FIGURE: Facebook Ad Results from a recent 48-hour webinar campaign
In the image above the red numbers reflect the following:
The date the campaign was run was over 48 hours from 6-7 June 2016.
The number of conversions which was the number of registrations to the webinar.  In total, there were 106 registrations.
The cost per conversion, which is the cost to secure registration to the webinar. It cost $1.47 for each registration.
The total cost of the campaign which as $155.68.
So it cost $155.68 to sign up 106 attendees to this webinar at $1.47 per sign up. The campaign ran for only 48 hours.
Do you know of another platform that can get these results so fast?
Powerful Targeting
The reason Facebook Ads are so reliable and predictable is because of its powerful targeting features. You can target a user on the Facebook platform using over 400 data points. Some of these data points include:
Gender
Location
Marital status
Interests based on pages liked on Facebook
Occupation
Are they renting or a home owner
Do they have children
The ages of their children
Are they looking to buy a car
Are they travelling to a specific city
What type of business they work for
Are they engaged to be married
I have just given you 12 data points, but there are over 400 that Facebook has which marketers can use to target their perfect prospects. Being able to target your prospects so specifically is what drives down the costs per conversion to a webinar signup.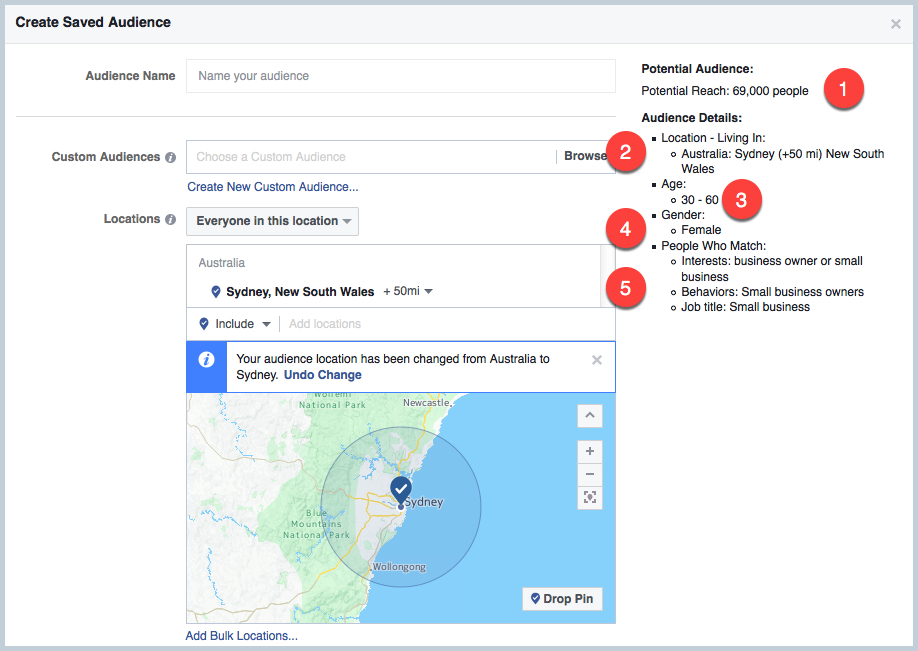 FIGURE: Facebook Audience Targeting example
In the image above the red numbers reflect the following:
The Potential Reach of this Ad is 69,000 people
This ad will target people living within 50 miles of Sydney in NSW Australia
This ad will target people aged between 30 – 60 years old
The Ad will only be shown to females
The ad will only be shown to people who are business owners and people who are interested in pages about business owners 
It doesn't matter if you are a B2C or a B2B business, your clients are on Facebook. Facebook is a platform that people use to connect their friends, and it doesn't matter if they are a CEO or a janitor, they are all on Facebook. Of course, B2C prospects seems easier to target, but I have had much success targeting B2B prospects. You just have to be more creative.
Get started with Facebook Ads now by signing up at Facebook for Business.
2. Email List
Your email list is your next best way to promote your webinar. Your list should contain prospects and clients who are interested in your webinar because they have shown interest in your business in the past.
Promoting a webinar to your in-house email list won't give you new prospects but it will help you nurture existing prospects.
If your list is not growing, every time you resend the webinar invitation the number of signups from the list will decrease as more and more prospects attend the webinar.
A good way to counter this decrease is to change the topic of the webinar on a regular basis to keep the content fresh and your list interested.
3. Eventbrite or similar sites
Eventbrite is an event listing site which provides businesses with a platform to sell tickets and manage event attendees. There is no cost to list and promote free events. Paid events attract a small charge per ticket.
Eventbrite also lists each event on the site which is highly searchable. Adding your webinar to the site will put it in front of many Eventbrite users. I have received many signups to events from users of the Eventbrite platform.
Eventbrite may not deliver many new signups, but it is worth listing the event for SEO purposes and to expose your webinar to a difference audience.
When a user signs up for the webinar using Eventbrite you can add them to GoToWebinar automatically using Zapier.
3. Twitter Ads
Twitter Ads are an option for businesses who target prospects who are interested in tech, entertainment and news. My success has not been as good on this platform because:
The targeting is not as powerful as Facebook Ads
You cannot retarget people who interact with your ad or visit your website from the Twitter Ads platform. You can do both of these things on the Facebook Ads platform which makes a huge difference in the results you will achieve
To be fair, we do see signups on Twitter for the tech companies we work with, but the cost per leads are more than Facebook and we don't get as many leads.
4. Google Adwords
Google Adwords are a paid platform which has been successful for so many companies, but I find it is getting more and more expensive. The competition on Google Ads is increasing and costs are rising.
Why I recommend Google Ads is because unlike Facebook Ads which is interruption marketing, Google Ads is more intent-based. Prospects type into the Google search engine what they are looking for and your business will get to show them an ad related to that search. In other words, if a prospect types into Google the term "Facebook Ads training course", then I know they are interested in Facebook Ads training and I can nominate to show my ads for my Facebook Ads training course to those people.
This is very different to Facebook where we interrupt a user with an ad which they may or may not be interested it. Why Facebook is working better than Google Ads is because of the targeting it allows. Even though you interrupt someone with an ad, there is a very high chance that they are interested in that add if you have targeted them correctly when setting up the campaign.
So Google Ads intent based marketing is very powerful. It is worth doing, but my experience is it will cost you more per lead than Facebook and it probably won't provide you with as many leads, as your ad only gets shown if a user types in a specific keyword combination that matches your campaign keyword.
5. Social Media
Social media can be a powerful way of promoting your webinars, but only if you have a  very large following. If you don't then you just won't get the reach and the sign ups. The goal is to build up your social media followers over time so that it becomes a significant promotional tool. But unfortunately, most businesses don't have a large social media following.
The good thing about running Facebook Ads is that one of the bi-products of running Facebook Ads is you will attract new page likes. These all help as you are able to retarget people who like your page and their friends.
Nonetheless, whether you have a large or small social media following, you should always promote your webinar on social media. I recommend using Buffer to schedule your posts  on all platforms. This service allows you to set the schedule and forget about it, knowing that the updates will be sent at the specified dates.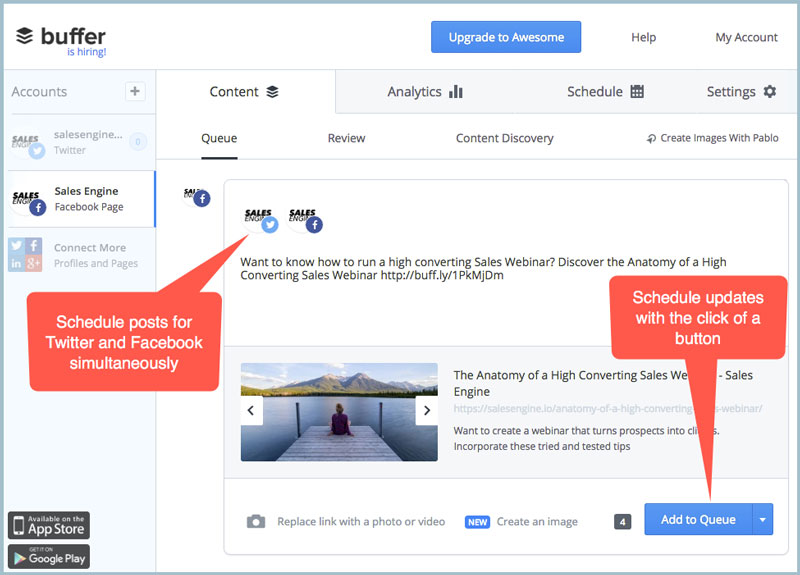 FIGURE: Schedule social media updates with Buffer.com
6. Meetup Groups
This one is a bit of a longshot for webinars but it works great for free live in person events. Meetup.com is a site that lists many user groups, networking groups and interest groups which meet on a monthly basis.
FIGURE: Meetup.com is a good way to promote a webinar
These groups are usually all focused around a central theme or topic like marketing, women in business, meditation or software development. An effective way to promote your webinar is to approach the organiser of a meetup group that represents members who will be interested in your topic and ask them to promote it to their list.
Why would they do this for you, you may ask? Well, you just have to be creative. Maybe you could make the organiser part of the webinar by interviewing them, or you could promote the meetup group to your email list. You need to make sure that the exchange is a win-win so both parties get something out of the interaction.
7. Joint Venture
Conducting your webinar as a joint venture is another great way of attracting new prospects. The best way to do this is by approaching another business or industry expert who has the same target audience as your business but does not compete with your business.
A good example of this is a lawyer and an accountant holding a joint webinar. Or a web designer and a CRM consultant. The topic should benefit both audiences.
The webinar could be held as an interview or a presentation, but the most important point is that both businesses promote the webinar to both of their email lists and social media accounts. At the end of the webinar, both businesses should have access to the attendee list.
Conclusion
Webinars are a great sales and marketing tool, but the biggest challenge for most marketers new to webinars is securing attendees on a regular basis. The above promotion strategies are all worth giving a go, but my suggestion if you have time and money to invest into only one then go with Facebook Ads. Facebook Ads will deliver the most signups on a recurring basis with less energy than all the other put together.
Do you have any other webinar promotion methods you successfully use? Let me know if the comment below.