GoHighLevel Recurring Income is the best way for web designers to scale their income and push profitability to 70% while keeping clients paying a monthly fee for 3-5 years.
A recurring income is essential for a web designer because there are 3 Big Problems every web designer has to overcome.
3 Big Problems Every Web Designer Experiences
Web design is a great business. It can give you time, freedom, and money to live life on your terms.
To get these rewards, you need to run your business effectively.
But there are 3 Big Problems most web designers run into on their business journey. To become profitable, they need to overcome each one.
Feast And Famine Income Cycle
Web design is traditionally a project-based business. So your income is usually high when you win new clients and low when you deliver those projects.
Having peaks and troughs in your cash flow often causes financial pressure for web designers, no matter how large the business.
The trick is to remove this feast and famine cycle, and in this article, I will show you how.
Custom Work
Another problem with web design is the custom work you have to do on every project. It is impossible to truly scale your income when you build a brand new website for every client and can't fully leverage your past effort.
To grow your business profitably, you need to limit the amount of custom work you do on every project.
Websites Are A Commodity Service
The final problem web designers run into is selling websites has become a commodity service. Web design is a highly competitive marketplace, and most businesses already have a website.
So to win a new client, you need to stand out and offer something of high value to your prospect.
So, Is Web Design Still A Good Business?
My answer to that is a resounding YES!
But it isn't a good business if you are struggling with these 3 Big Problems.
Let me show you how to overcome them and skyrocket your income as a web designer.
GoHighLevel Is The Answer Web Designers Need?
GoHighLevel is the solution to the 3 Big Problems for web designers.
GoHighLevel is an all-in-one marketing platform that you can integrate into your website builds. It will make your website offer much more valuable to your prospects.
What's even better is you can sell GoHighLevel to your clients and make a recurring income of $100 – $500/mth.
And all you have to pay GoHighLevel is just $299/mth. In addition, you can sign up unlimited clients with unlimited users and contacts.
For example, if you sell GoHighLevel as a marketing platform to your clients for, say $150/mth, here is the income you make every month:
10 clients – $1,500 recurring income every month
20 clients – $3,000 recurring income every month
40 clients – $6,000 recurring income every month
80 clients – $12,000 recurring income every month
160 clients – $24,000 recurring income every month
320 clients – $48,000 recurring income every month
Those numbers are incredible, especially when you consider that income will be paid to you every month if your client continues to use GoHighLevel.
What if you could have $3K, $6K, or $10K coming into your bank account every month guaranteed with no work required to earn that money?
What freedom would that give you in your life?
Imagine the pressure it would release and the options it would give you personally.
How GoHighLevel Solves The 3 Big Problems
From Feast and Famine TO Recurring Revenue with GoHighLevel
When you build a typical website, a client will also have to signup for multiple online platforms to complete their marketing stack.
These apps may include:
Calendar Scheduling app like Calendly – $15/mth
Email Marketing App like Mailchimp or Active Campaign – $69/mth
Integration App to integrate all the apps like Zapier – $20/mth
Social Media posting apps like Buffer – $20/mth
Survey app like Jotform – $24/mth
CRM like Pipedrive – $49/mth
Website Platform like Wix – $27/mth
Funnel and Landing Page Builder Like Clickfunnels – $97/mth
Web Chat Widget like Tawk.to – $19/mth
The issue with these monthly payments is you don't make any money from them. You do all the work selling and signing up the client to their platform, and the app provider takes all the money.
The monthly payments for these apps add up to $340/mth, which your client has to pay to create a marketing stack of apps that gets results.
What if you could provide these apps to your clients, and they pay the total fees to you?
That would be a nice recurring income!
GoHighLevel is an app that you can purchase for just $299/mth. You can sign up unlimited clients, and each client account can have unlimited contacts and users.
Once you pay your $299/mth, every dollar you earn over that is yours to keep.
So you can replace all of the above apps in your website solution with GoHighLevel and take all the profit for yourself.
From Custom Work To Selling a Marketing System With GoHighLevel
GoHighLevel allows you to build out a Snapshot and then install that Snapshot into each new client account.
A Snapshot is a copy of an account, including all the funnels, landing pages, websites, workflows, emails, sales pipelines, scheduling calendars, and configuration settings.
With the click of a button, you can give a new client a copy of a complete GoHighLevel setup.
When you integrate 3rd party apps, getting a new client setup can take 1-3 days.
But with GoHighLevel, you can do it all instantly.
You can pick a niche and build a GoHighLevel Snapshot for that niche, including everything.
Then you can sell that snapshot 10, 100, or 1000 times to any business in that niche.
Now you can create a repeatable process that adds high value to your clients but doesn't consume a lot of your time to roll out.
From Selling A Commodity Product TO An Irresistible Offer
Websites are getting harder to sell because of market saturation and competition.
But most websites are useless, and once they go live, the business receives almost zero value from them.
When you install GoHighLevel into a website, you sell a marketing engine, not just a website.
The website now becomes an irresistible offer because it can capture more leads, nurture those leads and help convert those leads into a client.
Let me show you how.
How to Sell GoHighLevel Recurring Income As A Web Designer
Let me show you how I sell GoHighlevel to my clients.
I tell them the following:
"You don't need a just a website. What you need is Sales Driven Website. A website that helps you capture more leads nurtures those leads and converts those leads into clients.

Your website is like the face of your marketing.

It makes you look attractive to your prospect, but GoHighLevel is your marketing brain. It thinks and makes decisions on how to treat your prospects, nurtures and convert them into a client.

You can't have one without the other. If I just build you a website, it is like someone who has a face but doesn't have a brain. They don't have life in them.

And so your website needs a brain. That brain is GoHighLevel.

GoHighLevel provides all the features you need to power your marketing."
Another way to explain GoHighLevel is to compare a website to a car.
Here is what I say:
"A website is like a car.

It has a car body and an engine.

The car body is like a traditional website. It is the home of a business and can be searched, found on Google, and navigated to by website visitors.

But every car needs an engine, and GoHighLevel is that engine. It exists to capture, nurture, and convert website visitors into paying clients.

That is the purpose of every website.

You buy a car without an engine, so buying a website without a marketing engine (GoHighLevel) is why many websites just don't produce results."
My web design business skyrocketed once I started to explain this to my prospects, and sales increased along with my prices.
Deliver A Marketing System, Not a Marketing Service
I like to call GoHighLevel a marketing system, not a marketing service.
Let me explain the difference between a marketing service and a marketing system.
A marketing service is when you complete a series of tasks to deliver results for a client.
A marketing system is when you deliver results for a client using a series of automated processes. There is no manual labor involved.
You deliver a marketing system when you install GoHighlevel into a client website.
The monthly recurring income you generate does not require you to do ongoing work, so it is very profitable.
Benefits Of Selling A GoHighlevel Marketing System With Your Websites?
A Productized Service
Using GoHighLevel Snapshots, you can create a productized service from your website and new marketing system.
It will be easy to deliver, sell and maintain.
If you work in one niche, you can optimize your snapshot regularly and build out the most powerful website and marketing system for that industry.
Recurring Income
Selling GoHighlevel is the best way to build recurring income in your business.
I have written extensively about increasing your web hosting prices as a web designer. You should not be selling your website hosting for less than $99/mth. Still, GoHighLevel is an even better recurring income.
Once you sign a client to a CRM or marketing automation app, the churn is very low, around 4%, and clients stay for 3-4 years.
GoHighLevel is a sticky platform which means clients rarely leave.
Once you build the client's marketing funnels and CRM and integrate them into your website, it is tough for them to leave without significant disruption to their business.
This sticky type of recurring income is the best of all.
No Ongoing Work
The best type of recurring income is also a set and forget recurring income.
With marketing service retainers, you have to do lots of work every month to earn your retainer.
But when you sell GoHighLevel, there is very little work you have to do every month because you are selling a platform, not a service.
Yes, there will be some support at the beginning of the rollout and maybe sporadically, but your blood, sweat, and tears do not earn the income you receive every month.
The profit margins on service-based recurring income are 10-20%, but the profit margins on platform-based recurring revenue are around 70-80%.
Rapid Deployment
Because you are installing a snapshot and then doing a few hours of configuration, it is rapid and easy to roll out a new client using GoHighLevel.
You don't have to expect to do a lot of extra work when using GoHighLevel.
You Keep All The Money
Yes, after you pay your $299/mth fee to GoHighLevel, you get to keep everything else.
I don't know another software you can resell with high-profit margins for web designers and agency owners.
Unlimited everything
The beauty of GoHighLevel is everything is unlimited.
GoHighLevel puts no restrictions on you and your clients like many other vendors.
You get unlimited client accounts for your low monthly fee, and each client can have unlimited users and contacts.
Clients Want It
Your clients are already paying for these apps.
You are giving them a more straightforward way to purchase them, an integrated way to work with them, and a better price.
You don't have to convince your clients that they need it. They are already using it.
More Valuable
When selling GoHighLevel, you provide your clients with even more value to their website.
When they see what you are providing, they will see more value in your offer over your competition.
Stand Out From The Crowd
If you include GoHighLevel in your website offer, you will make you stand out from your competition.
There are virtually no web designers currently offering this service.
You will make a lasting impression, and you won't be selling a commodity service.
The Top 10 Marketing Features You Can Sell Through GoHighLevel
You can include the following GoHighLevel features as part of your website builds.
You can also charge a monthly fee for them, and they require no ongoing work for you to do to receive your monthly payment.
Web Chat Widget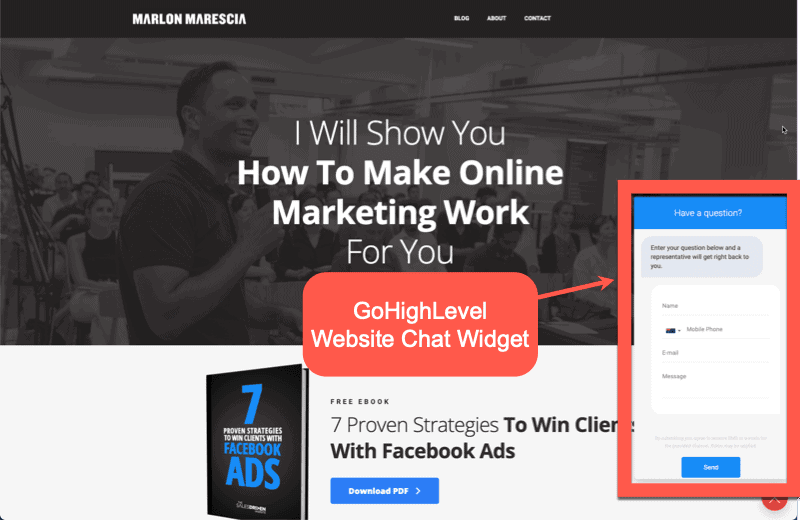 Every website should have Website Chat enabled. The benefit of GoHighLevel's website chat widget is it quickly moves the conversation to SMS. So when the website visitor leaves the website, you can keep chatting through your phone even when they leave the website.
Using the GoHighLevel Website Chat Widget, you can add this feature to all your client websites and start capturing leads for converting those leads instantly.
Lead Magnet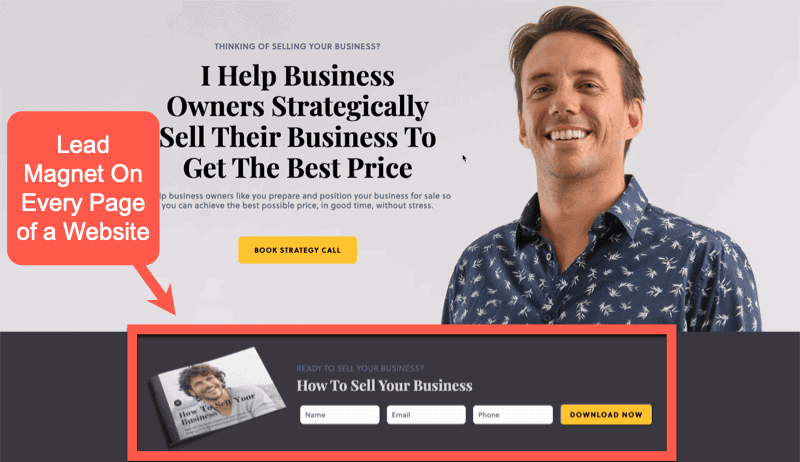 A lead magnet is a free giveaway you can add to every website page that visitors can receive in exchange for their contact details.
This feature is valuable for any website as 97% of visitors will leave and never return. By adding a lead magnet to a website, you can capture an extra 5 – 20% of additional leads from the same traffic.
GoHighLevel has a form builder that you can use to capture the visitor's contact details, and those details are added to the GoHighLevel CRM.
Workflows and Follow Up Sequences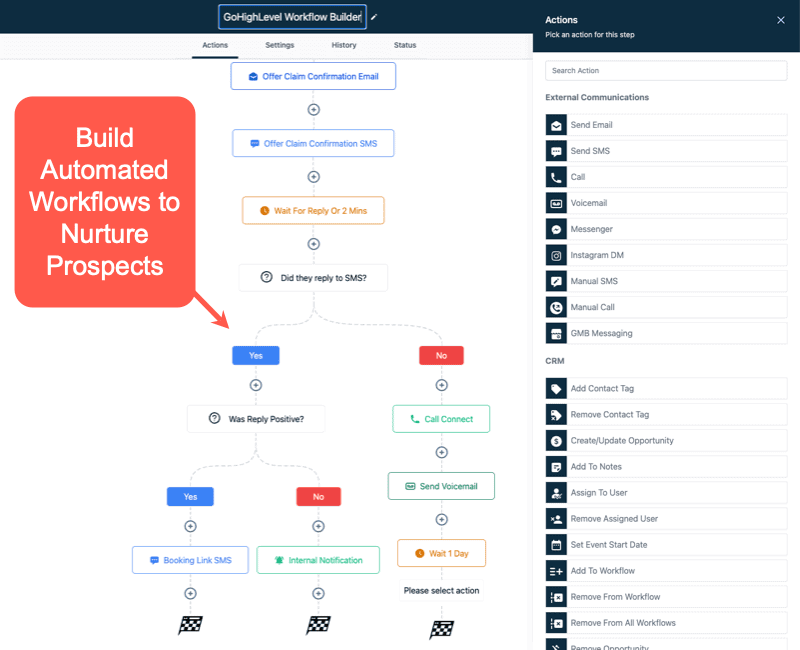 Once you capture a visitor's details on the contact us page or a lead magnet, you need to nurture that prospect until they are ready to buy.
I always set up a 14-day follow-up sequence on every website that contacts the new lead by sending automated emails and SMSs to the contact. These interactions aim to educate the prospect and ask them to take the next step in the sales process, like scheduling an appointment using the GoHighLevel scheduling calendar or calling the client.
These follow-up sequences are also set and forget. Once you set them up, there is no need to do any ongoing work.
We deliver the emails and SMS through the GoHighLevel Workflow functionality, which is the best on the market.
Yext Listings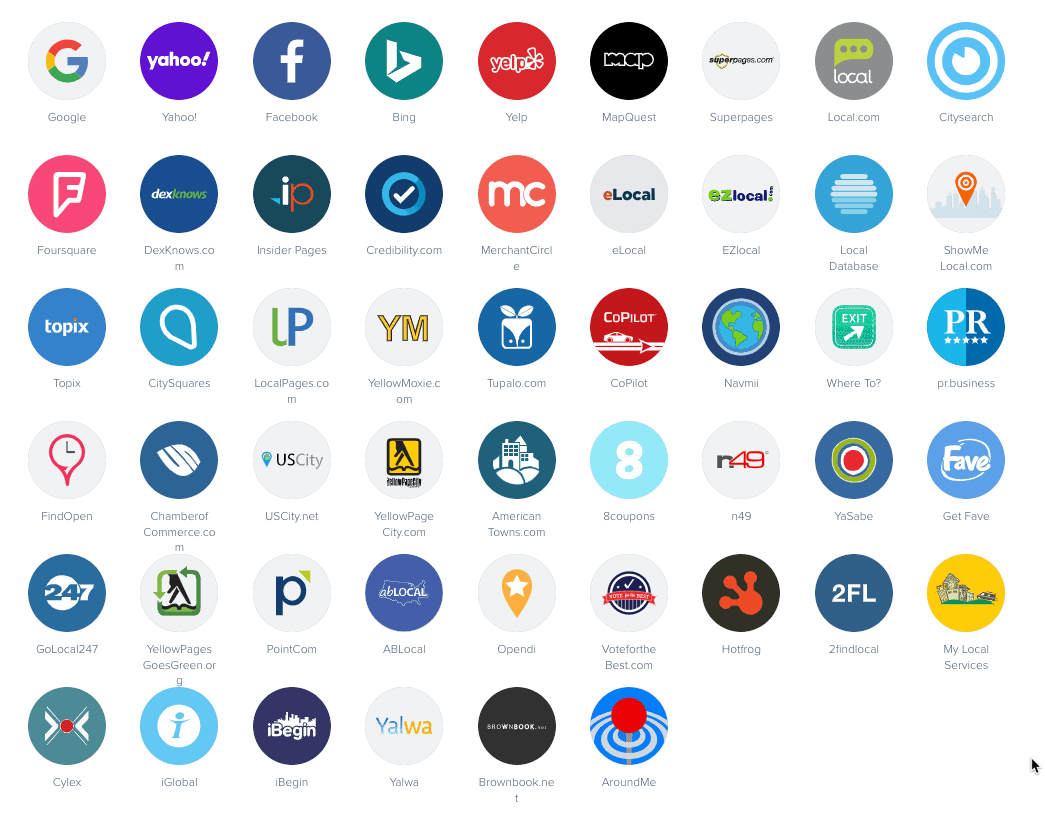 Yext is a business listing service that allows you to update your client's details in one location. In addition, their business is updated on over 50 sites online.
Some of these sites include:
Google My Business
Yelp
Yahoo
Facebook
Bing
eLocal
Yellow Page City
Around Me
And 42 more sites…
These listing sites are essential for two reasons:
They all provide backlinks to your client's website, building authority in Google
Your client's customers can find their business on these sites.
Yext Listings costs $95/mth.
But with GoHighLevel, you only pay $30/mth, and you can on-sell this service to your clients for $95+/mth, and you keep the difference.
GoHighLevel does all the billing, so there are no administrative and reconciliation tasks for you to complete.
CRM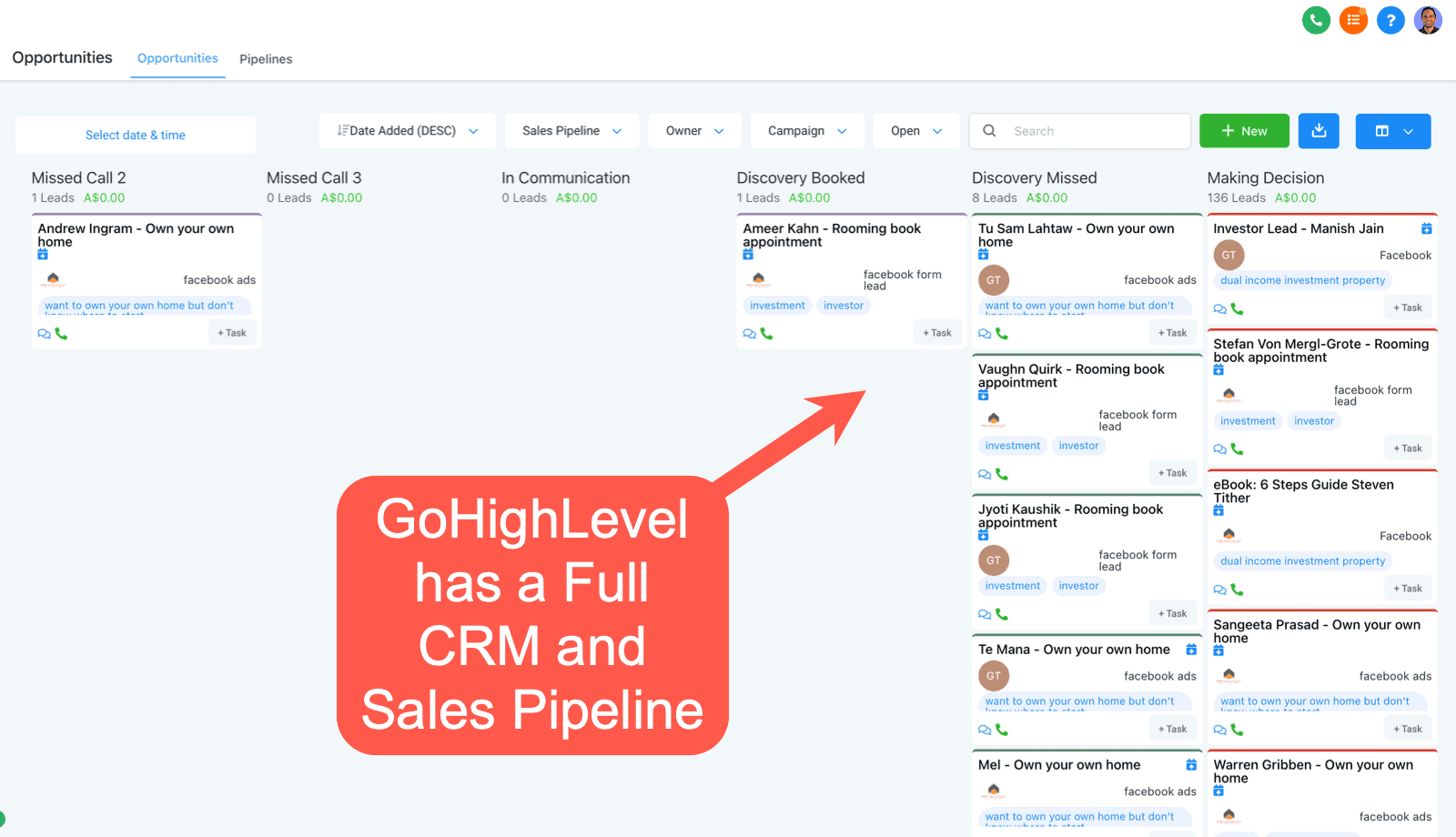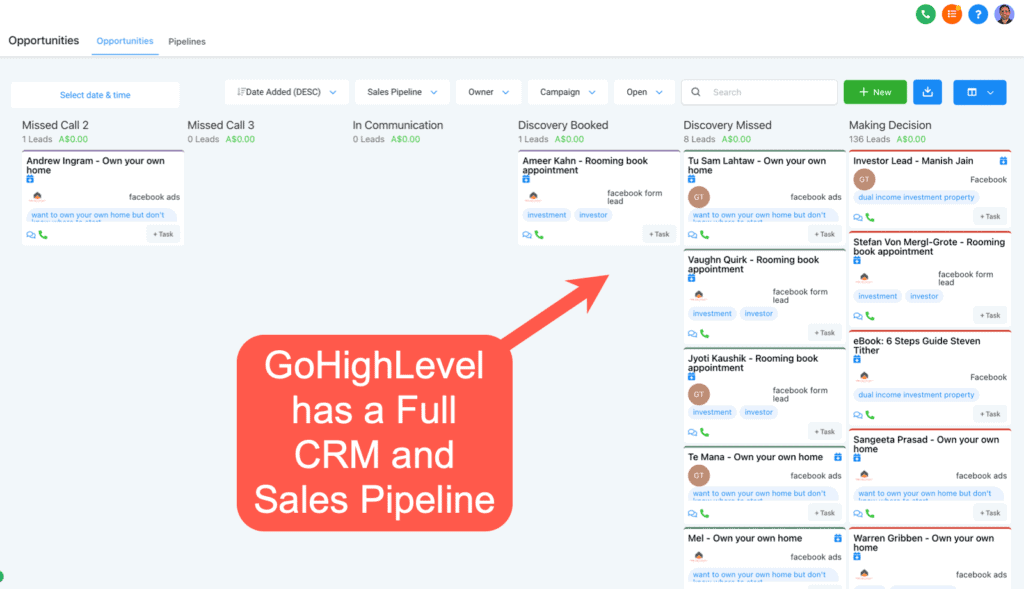 Every business needs a CRM, and most small businesses don't have a complete solution. GoHighLevel includes a robust CRM, which is perfect for small businesses.
It is also totally integrated into the marketing function, so you get a full 360 view of the client's interactions with a prospect.
By adding features to your website, you will help your clients grow their business and make your website an integral part of managing their sales process.
Unified Inbox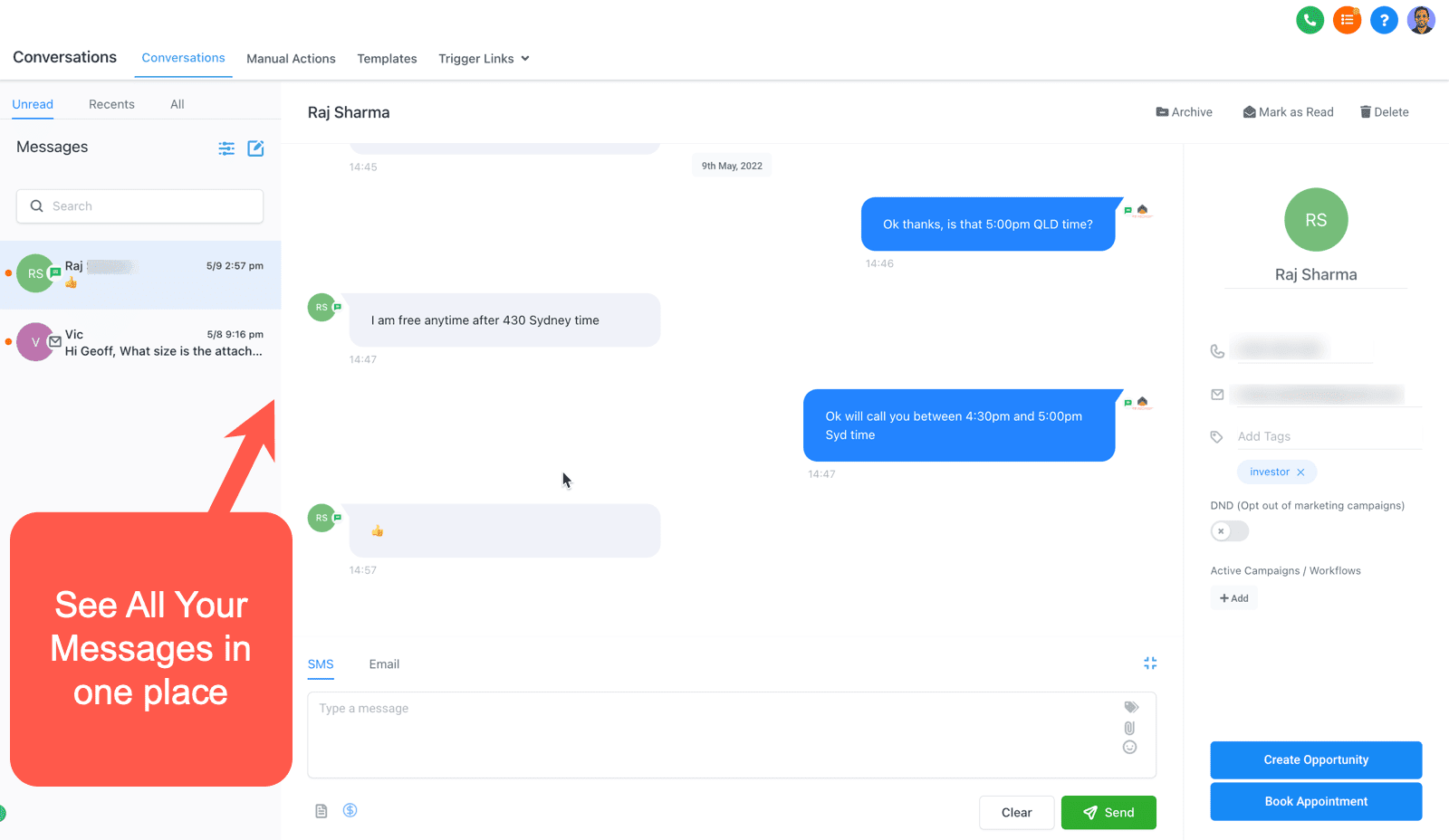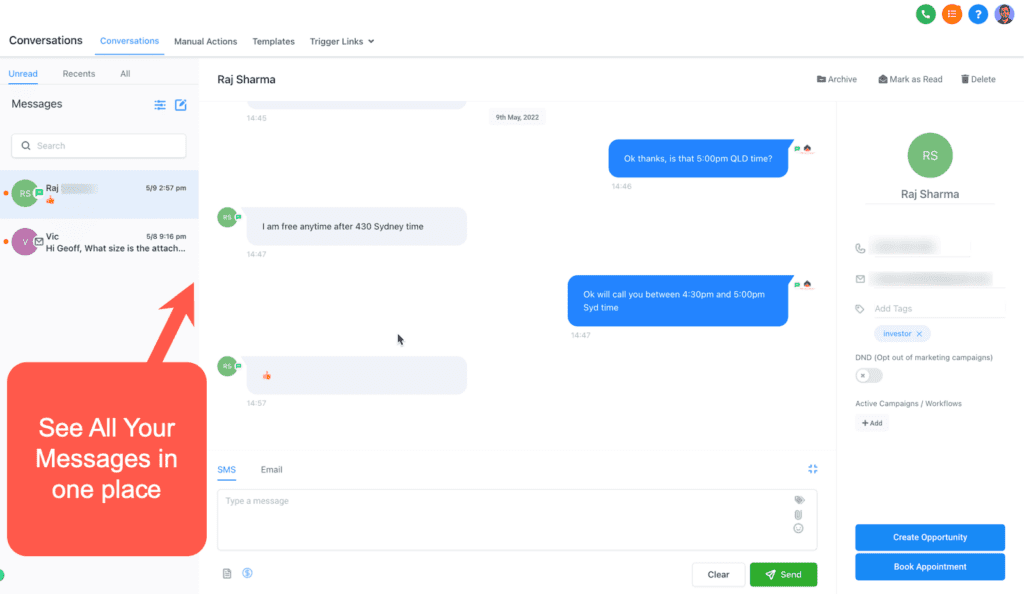 There are so ways businesses can communicate with their prospects and clients today. But unfortunately, the company has to log into each platform to check for messages, and most don't consistently do this.
Therefore they miss many vital sales requests and lose that income to their competitor.
GoHighLevel includes a unified inbox, a place in the app where a user can see all messages from every platform in one place.
Those platforms currently include:
Facebook Messages
Instagram Messages
Google My Business Profile Messages
WhatsApp Messages
Email Messages
SMS Messages
It also makes it super easy for a user to reply to each message no matter the platform with a couple of clicks.
Your client will never miss another message again.
Social Media Planner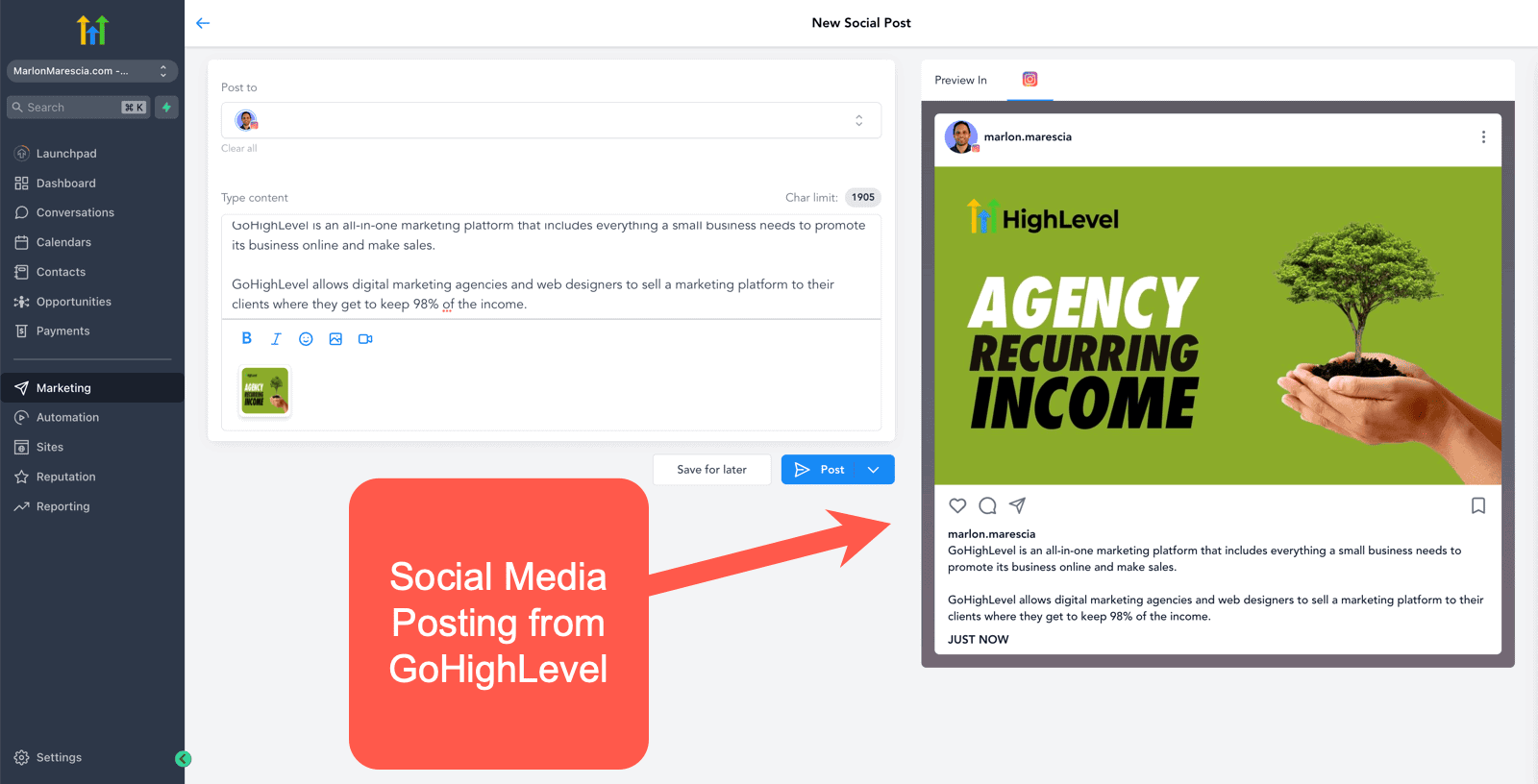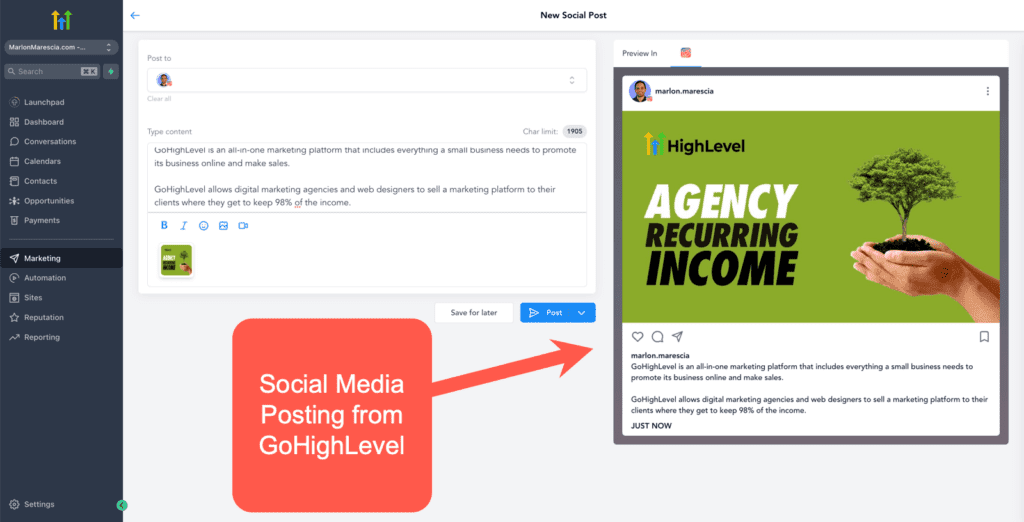 Posting to social media is another task that clients know they should do but fall short of being consistent because of a lack of time.
GoHighLevel includes a complete social media posting platform just like Buffer and Hootsuite.
Making this feature available to your clients means that GoHighLevel will become an integral part of their business and keep it sticky, so stay for a long time.
Surveys, Quizzes and Forms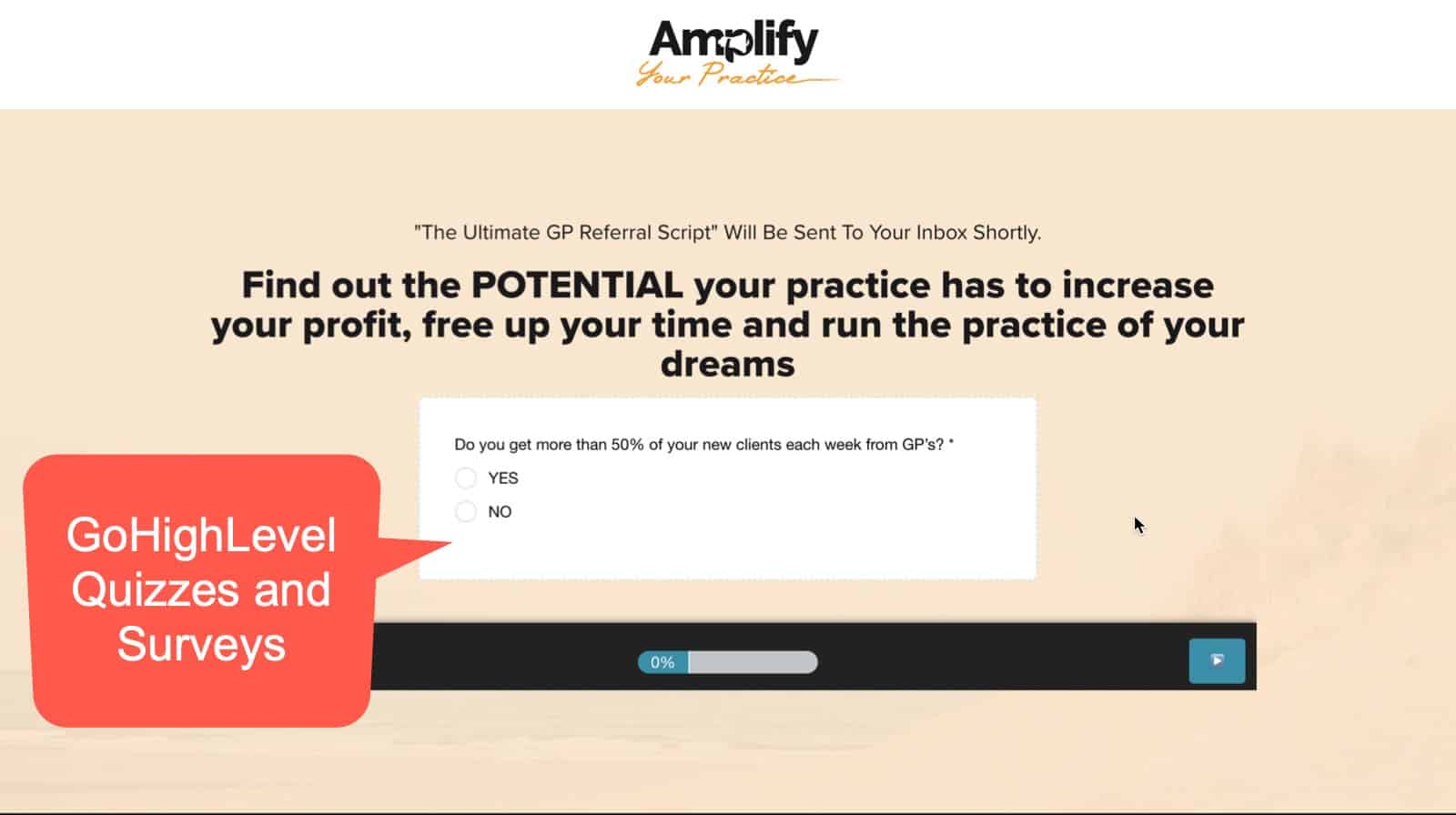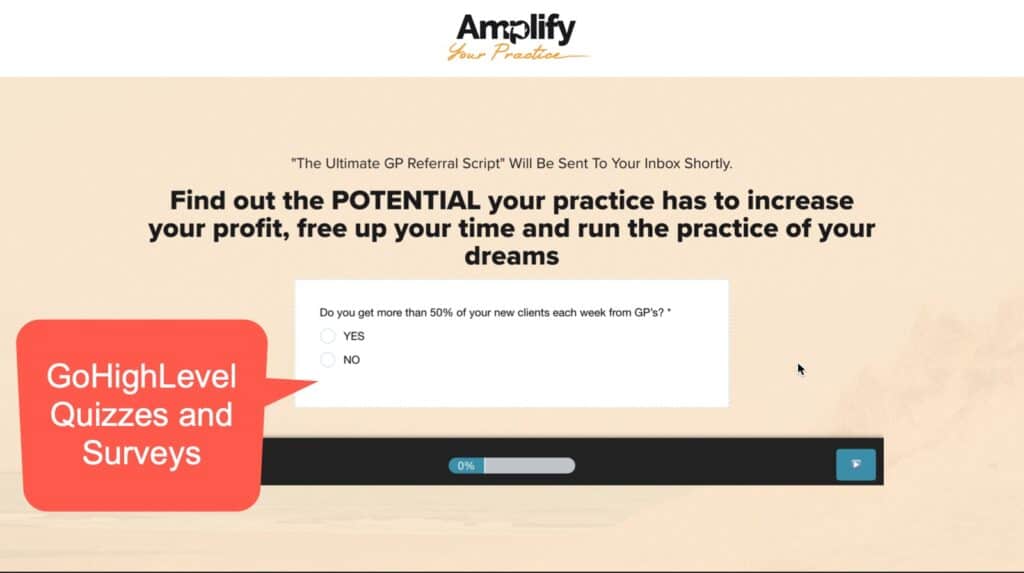 Many businesses need to qualify prospects in the lead generation process. So they look to apps like Jotform and Typeform to build those surveys, quizzes, and forms.
I like to build a survey or form for every website I create to help qualify a website visitor.
They don't take long to create and configure. Still, the value to the business lasts a lifetime, and clients love the information they provide to their salespeople.
GoHighLwvel has an integrated survey, quiz, and form builder.
Email Marketing Builder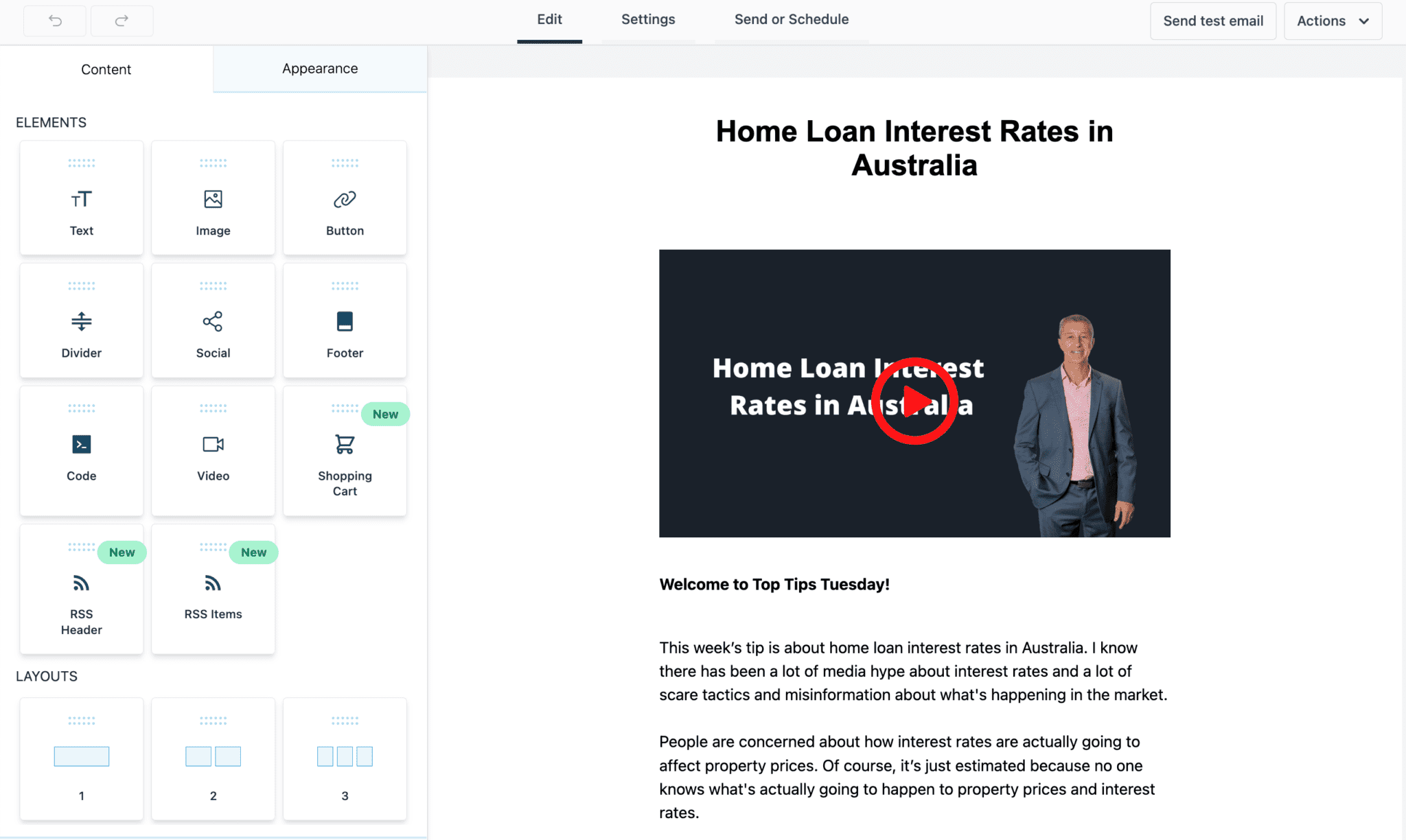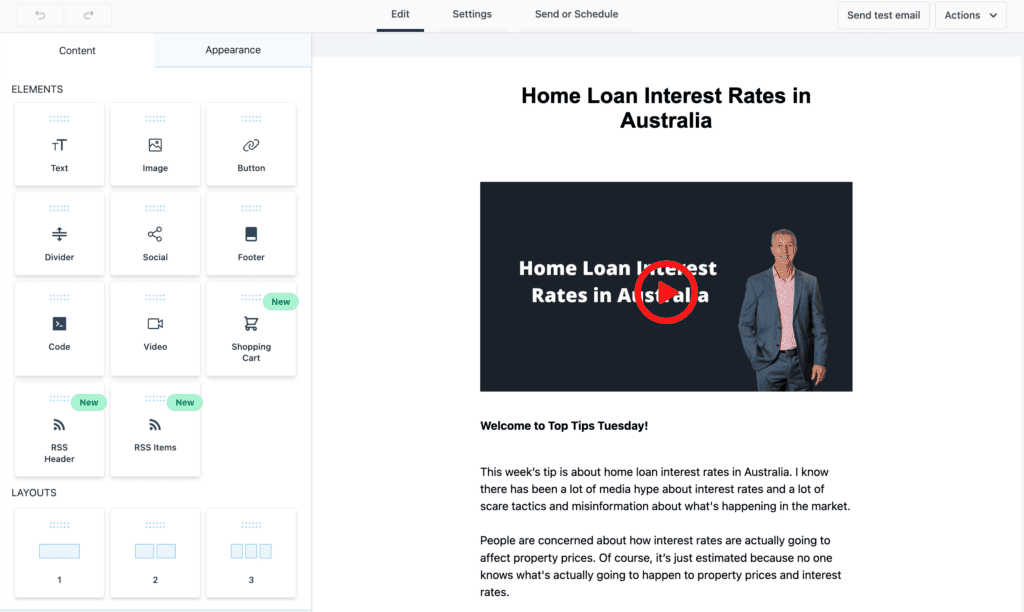 Email Marketing is one of the most critical marketing tactics available today for a business to make more sales.
Almost every business has an email marketing platform, and it is almost always separate from their CRM.
The lack of integration makes following up with clients at the perfect time difficult.
By providing an integrated email marketing platform to your clients, you will be able to show them how they can use GoHighLevel to make more sales.
For example, you can set up a workflow to run every time a prospect clicks on a link in a marketing email. Then a salesperson can be notified to call the prospect while they are still looking at the email.
Reputation Management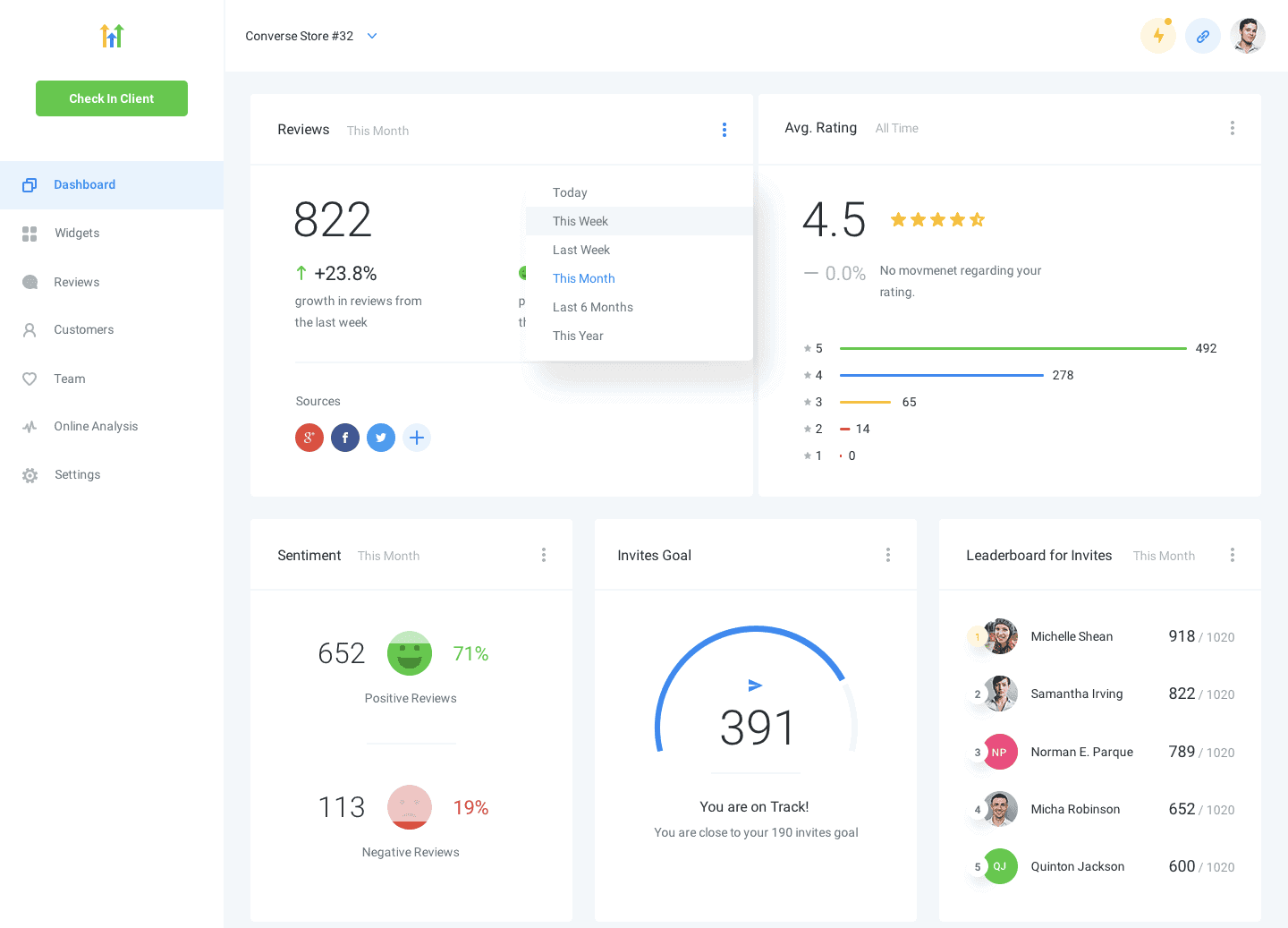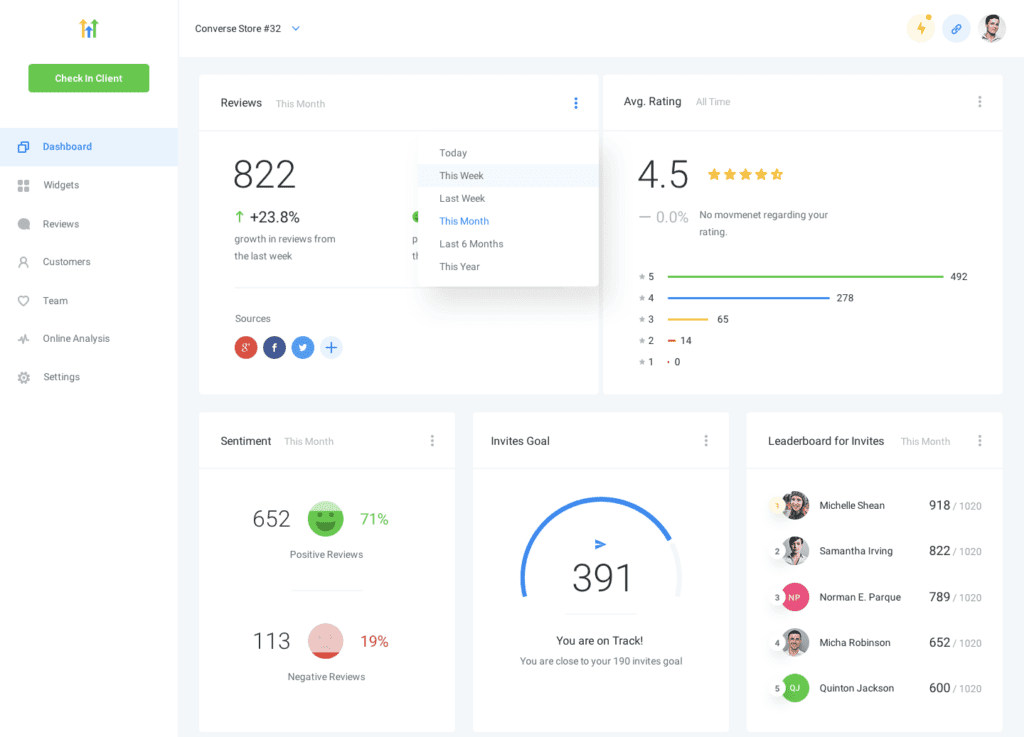 A business's Google Business Profile is one of its most significant assets, but many are underusing it.
Google will provide free leads to a business if their Google Business Profile is updated and they have lots of Google Reviews.
GoHighLevel provides workflows that enable your client to send an automated Google Review request at the end of every client engagement. It will then manage that Google review request through to completion.
There is no ongoing work for you to do, but this feature will allow your client to get more leads from Google.
Two way SMS
SMS is the best way to communicate with clients because the open rates are 90+%.
GoHighLevel has two-way SMS built-in, which means your client can send and receive SMSs to their prospects.
Once clients start using this feature, they will wonder how they got by without it.
Two-way SMS will allow your clients to reach more people in their CRM with timely messages and move them to become a client.
It is great for sending messages like promotions or invitations that they need 90% of your database to see.
8 Steps to start selling GHL as a web designer
Pick A Niche
When you work with GoHighLevel, you can reduce the time to deliver a website with GoHighLevel integrated by focusing on one niche.
If you focus on one niche, you can build a perfect website and marketing system for that industry and then resell it many times.
So the first step is to choose the industry in which you want to focus.
The best industries to target for GoHighLevel are service-based businesses, particularly local businesses.
Build Your Marketing System in GoHighLevel
With GoHighLevel Snapshots, you can build the perfect marketing solution for one niche that includes all assets.
You can build every feature in your marketing system into a snapshot. For example, you can include all email workflows, social media updates, emails, landing pages, marketing automation, sales pipeline processes, and offers in GoHighLevel.
Then you can sell it to 1, 5, 10, or 100 businesses in that industry and leverage the snapshot with very little work to set it up.
Build An IP Framework
The easiest way to sell a GoHighLevel Marketing System is with an IP Framework. An IP Framework is a diagram that visually explains the features you will deliver.
If you give your IP Framework a name that is unique to you, you will make your business the only place to get it, making you memorable.
For example, the name of my IP Framework is called The Sales Driven Website, and you can see it in the image below: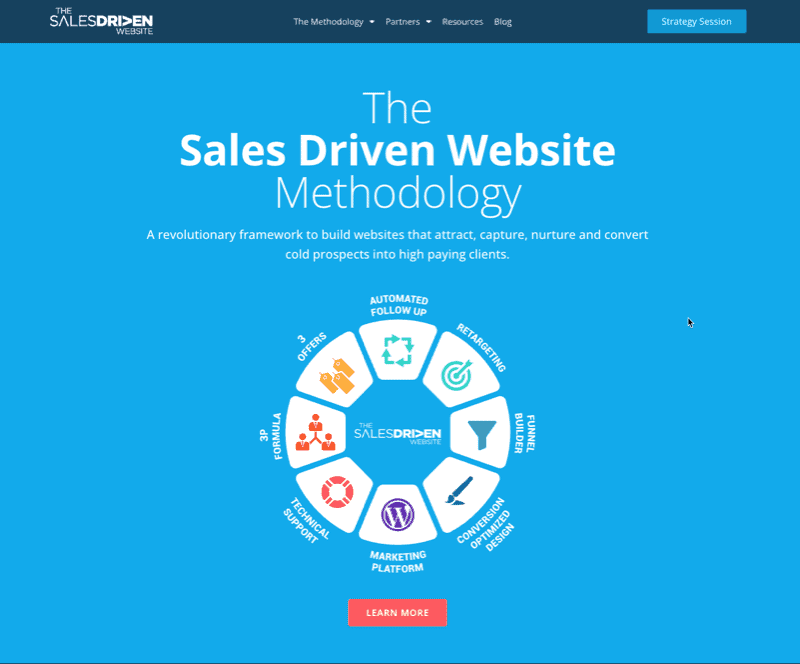 It includes the features of my website and GoHighLevel Marketing System.
Build A Landing Page
Next is to create a landing page on your website to explain your new IP Framework and the features of your offer, including all the features.
You will use this page to promote any advertising and show it to prospects who want more detail.
Build A Sales Funnel
Then you will need to build a complete marketing and sales funnel to find your new prospects and get them to book an appointment.
Mapping out your sales funnel from beginning to end will enable you to laser focus on getting new clients.
You can improve the parts of your funnel you are weakest at and then improve each part until they are all strong.
Close The Sale With A Sales Script
There is a straightforward way to sell your new website and marketing system.
I use a script in my sales calls that I have refined over the years, and I know it works. As a result, I have a 70% conversion rate for all qualified clients who attend my sales meetings.
You need to build a sales script that you can improve over time and get a 70% conversion rate.
What is the Cost of GoHighLevel
There are three GoHighLevel plans:
Agency Starter – $97/mth
This plan includes unlimited Users and contacts, but only for one account.
It is good if you want to try out GoHighLevel for your business.
Agency Unlimited – $297/mth
This plan has all features included, including unlimited contacts and users. The BIG difference is you can sign up unlimited clients.
You can start selling GoHighLevel to your clients for a small $297/mth fee. Anything you make over the $297 is your profit to keep
You can also white-label GoHighLevel and remove all references to GoHighLevel so that it becomes your platform.
With this plan, you have to look after all your billing, signup, and cancellations for your clients.
You can use Stripe to manage your client's monthly payments.
I recommend web designers start with the Agency Unlimited Plan.
Agency Pro/SaaS – $497/mth
This plan has everything included in the Agency Unlimited plan. In addition, this version lets GoHighLevel look after all the billing for your clients.
GoHighLevel is transformed into your own SaaS (software as a service) app with this feature.
The plan also allows you to do the following:
Split test landing pages
Access to the Eliza Bot
Charge your clients for Twilio and make a cut on every SMS sent
Charge your clients for Emails and make a cut on emails your clients send
What GoHighLevel Plan Should You Choose?
For web designers just starting with GoHighLevel, I recommend you go with the Agency Unlimited Plan for $297/mth.
How To Get Your First Clients On GoHighLevel?
Your priority should be to pay for your GoHighLevel subscription of $297/mth.
I suggest offering GoHighLevel to your existing clients, family, and friends who are business owners. It is the quickest way to pay for the GoHighLevel subscription.
Once you get enough clients to pay for your subscription, you can focus on your niche.
How to Get Started To Learn GoHighLevel for My Web Design Business?
There is a way you can get access to the complete snapshot I have been using for the past few years for my clients and then get coached by me to learn how to use it.
I have built an entire course, including videos and weekly coaching courses.
The program costs $2,000 upfront or $299/mth.
But if you sign up for the GoHighLevel Agency or Pro Plan, I will give you full access to it.
Just go through the following steps:
Sign up for GoHighLevel

Click here to signup for GoHighLevel on the Agency Plan – $297/mth, or

Submit your details to this form so that I can give you access to the program
FAQs
How much can I sell my GoHighLevel Marketing System for?
When you first start, I suggest building a GoHighLevel snapshot with all your IP and selling it for $149/mth as a minimum.
As you get more confident, you can raise your prices.
If you charge $149/mth, the client should still be saving money based on the other platforms they will have to pay for anyway.
Then when you build more features into your snapshot, you can increase the price of your GoHighlevel.
I know web designers selling GoHighlevel for $99, $149, $299, $499, $699 per month.
Is GoHighlevel hard to learn for Web designers?
There are lots of videos on YouTube that can teach you the basics. Still, suppose you want to learn how to use GoHighLevel as a web designer. In that case, I recommend signing up for my GoHighLevel Training for Web Designers.
It usually costs $499, but if you sign up for the Agency Unlimited Plan using my GoHighLevel Affiliate link, you can get it free.
Once you have signed up, submit your details in this form, and I will give you free access to the training.
Is GoHighlevel hard to learn?
GoHighLevel is no harder to learn than Mailchimp, ActiveCampaign, Ontraport, or Constant Contact.
As a web designer, you have already mastered much harder software to learn than GoHighLevel.
You will get a good understanding of the software within a few hours.
It sounds like a lot of work! Is it?
No, it isn't.
When you include GoHighLevel as part of your web design package, the upside is enormous for the client, and the income you can earn is high. Still, the effort for you to implement it is tiny.
Because of the snapshot feature of GoHighLevel, you can have 85% of the work completed with the click of a button.
Then you just have to change a few configurations and content settings for each client.
The part of the process that takes the most time is building your snapshot for your niche.
What niches are best suited to GoHighLevel?
You can sell GoHighLevel for almost any type of business, including eCommerce, product-based companies, service-based companies, B2C, and B2B.
Many web designers are getting fantastic and fast results in service-based businesses like business and life coaches, accountants, contractors, health services, law firms, gyms, restaurants, etc.
I personally use it a lot in B2B service-based businesses.
Is GoHighLevel a reliable platform?
Yes, GoHighLevel is a very reliable platform. They have just received a $70M round of funding from investors. The future is looking bright for all their agency and web designer partners.
Marketing agency owners built the platform for marketing agency owners, and they understand the challenges of our businesses.
What is Good vs Bad Recurring Income?
Recurring income that requires you to complete a manual service every month is what I call "Bad" recurring income.
When you get paid your monthly fee each month, much of that fee is paid out to an employee or a contractor to do some work to earn that income.
"Good" recurring income is when you get paid your monthly fee each month, but you don't have to do any work to earn it.
Selling GoHighLevel falls into this category and is "Good" recurring income. Because you are selling a platform, the value your client is exchanging their cash for each month is to use the platform, not to get you to do extra work for them.
The profit margin on "Good" recurring income is around 70-80%, whereas the profit margin on "Bad" recurring income is about 10-20%.