What is the GoHighLevel Chat Widget?
The GoHighLevel Chat Widget is placed on every page of your website so your visitors can message you live while they are on your website.
It is used to capture leads from website visitors and convert hot prospects into clients or appointments with your sales team.
Website visitors are used to chatting with staff on website chat, and GoHighLevel enables small businesses to get started without investing a lot of money into a chatbot.
The GoHighLevel Widget is a standard feature of GoHighLevel.
Why is the GoHighLevel Chat Widget Better?
There are many website chat widgets on the market, and many have way more features than the GoHighLevel chat widget.
I have tried many competing chat widgets, and I prefer to use the GohighLevel Chat Widget.
Why? There are two main reasons why I have made the switch.
Fully integrated – The GoHighLevel Chat is easy to learn, easy to add to a website and easy to use. There are very few bells and whistles, but the #1 reason I like it is that the prospect gets added directly into the GoHighLevel CRM when they start the chat
Uses text messaging – I love the GoHighLevel Chat Widget because the chat is an SMS conversation between you and the client. So when the client ends the conversation on the website, you can still keep messaging them through their phone
How to Install the GoHighLevel Chat Widget on your website
Step 1: Click on Sites >> Chat Widget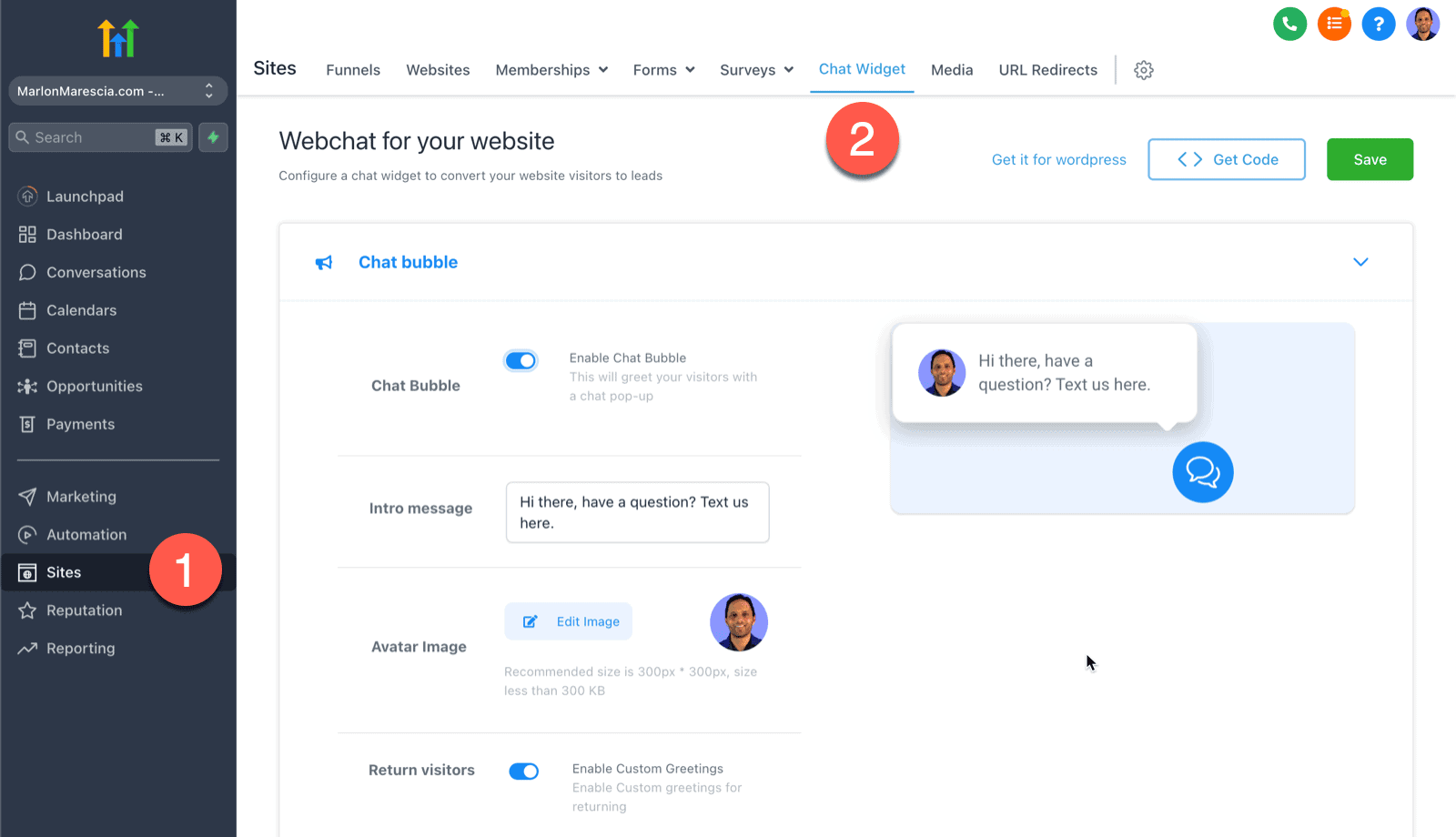 Step 2: Configure the settings.
Step 3: Get the Embed code for the website.
Step 4: Install the code in the footer of every page of the website.
Do I Recommend Using The GoHighLevel Chat Widget?
Yes, I recommend the GoHighLevel chat widget.
I know many other competitors on the market will deliver a lot more features, but for most small businesses, the features offered by GohighLevel are enough for them to get started and win clients.
Of course, the price is great because it is part of GohighLevel at no extra cost.
Next Steps
I suggest you do two things next:
Try out GoHighLevel for a 14-day free trial
Read my in-depth GoHighLevel Review on how I use GoHighLevel in my marketing agency.