There are many built-in GoHighLevel Integrations that connect GoHighLevel to other apps. These integrations add advanced functionality to GoHighLevel and turn it into a powerhouse platform.
If these integrations are not enough, you can always use Zapier to connect GoHighLevel to over 4,000 other apps.
Below is a list of the built-in iGoHighLevel Integrations.
Facebook Page
You can connect your Facebook page to GoHighLevel.
The GoHighLevel Social Planner can post content to your Facebook Page.
Facebook Ads
You can connect your Facebook Ads account to GoHighLevel.
When connected, you will be able to review your Facebook Ads data in GoHighLevel.
GoHighLevel will also be able to identify and record new contacts that arrive through a Facebook Ads campaign.
Facebook Messenger
Once your Facebook Messenger account is connected, you can receive Facebook Messenger messages in the GoHighLevel Unified inbox and send messages to contacts through Facebook Messenger.
You will also be able to create workflows that send Facebook Messages to contacts in your CRM. But they will have to have first messaged you through Facebook Messenger.
Instagram Messenger
Like Facebook Messenger, you will be able to send and receive messages to contacts through Instagram Messenger through the GoHighLevel Unified Inbox.
WhatsApp
The WhatsApp integration is in beta and as of May 2022, it has not been released. It should be released within a few months.
Google Business Profile
The Google Business Profile is one of the best connections. When connected GoHighLevel will be able to:
Create a dashboard so you can manage your Google reviews
Send Google review requests via SMS to clients through workflows
Add a Chat button to the Google Business Profile and any chats started by clients will be managed through the Unified InBox
Add the Reserve with Google functionality where a user can book a service or table at a restaurant through the Google Business Profile. GoHighLevel uses the calendar system to manage the bookings. (As of 15 May 2022, this functionality is still in beta)
Google Ads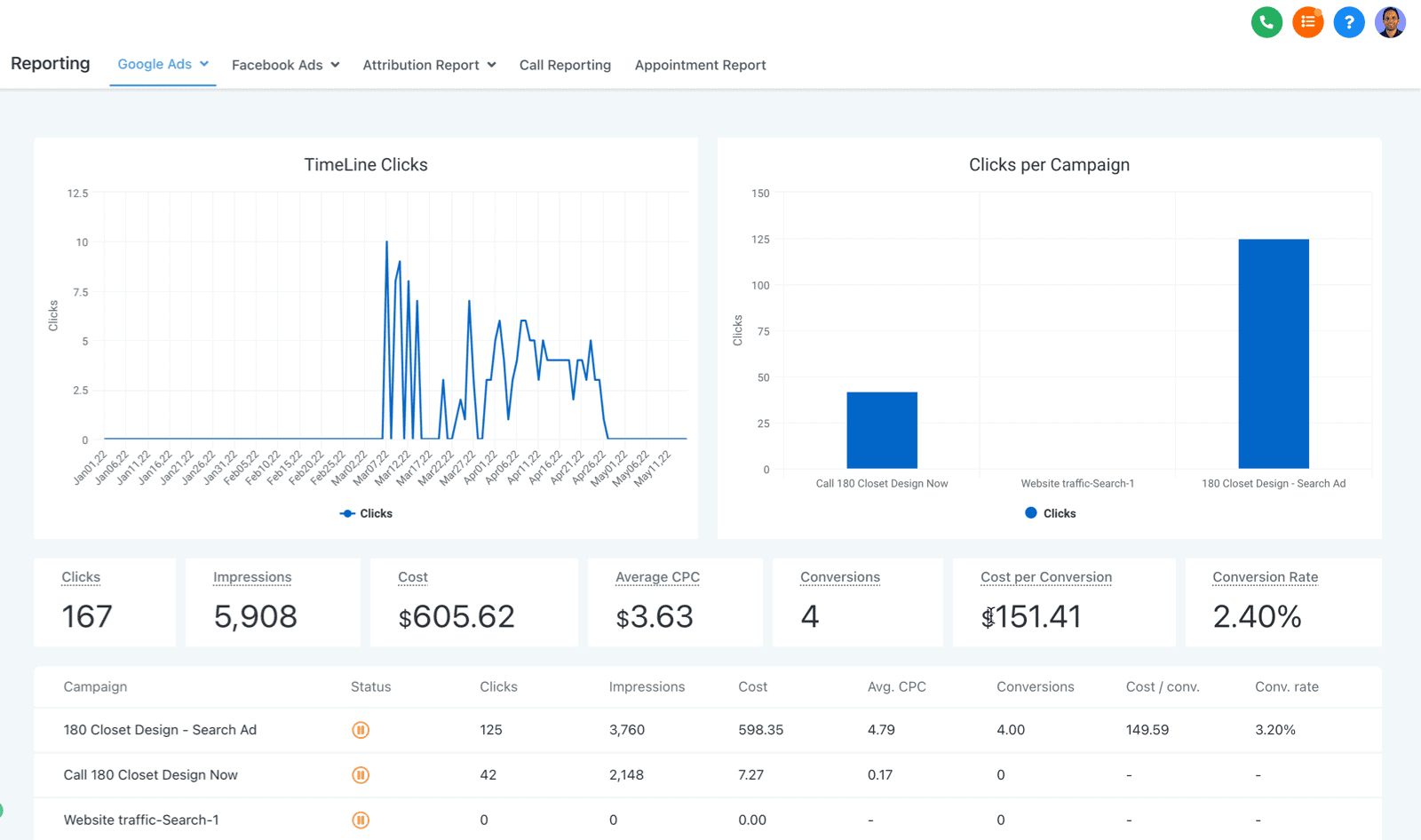 When a Google Ads account is connected, GoHighLevel will bring in the Google Ads data so you can review the data as reports in GoHighLevel.
GoHighLevel will also be able to track the lead source for contacts and then with that information calculate the cost per lead and sale for a contact based on if they came through Google Ads.
Google Analytics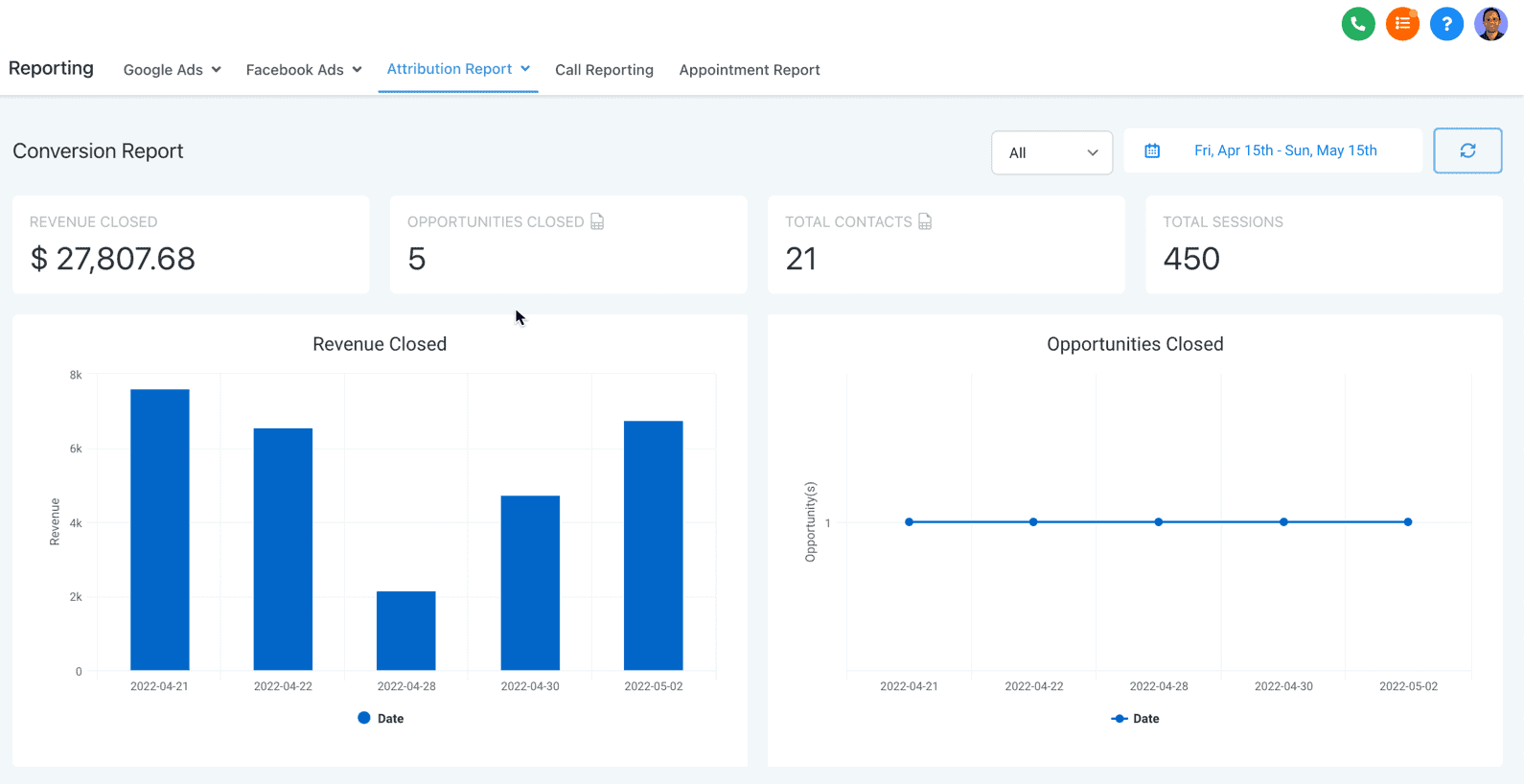 Again, once connected, Google Analytics data will be brought into GoHighLvel for full reporting and tracking of the lead source for leads.
Google Workspace Calendar
Google Workspace Calendar can be connected to the GoHighLevel platform, so the GoHighLevel calendar can book appointments based on availability in the Google Calendar.
When appointments are booked or canceled, the appointments are updated in the users' and contact's calendars.
Microsoft Outlook Calendar
Outlook's calendar can also be integrated and it provides the same functionality as the Google Workspace Calendar.
Shopify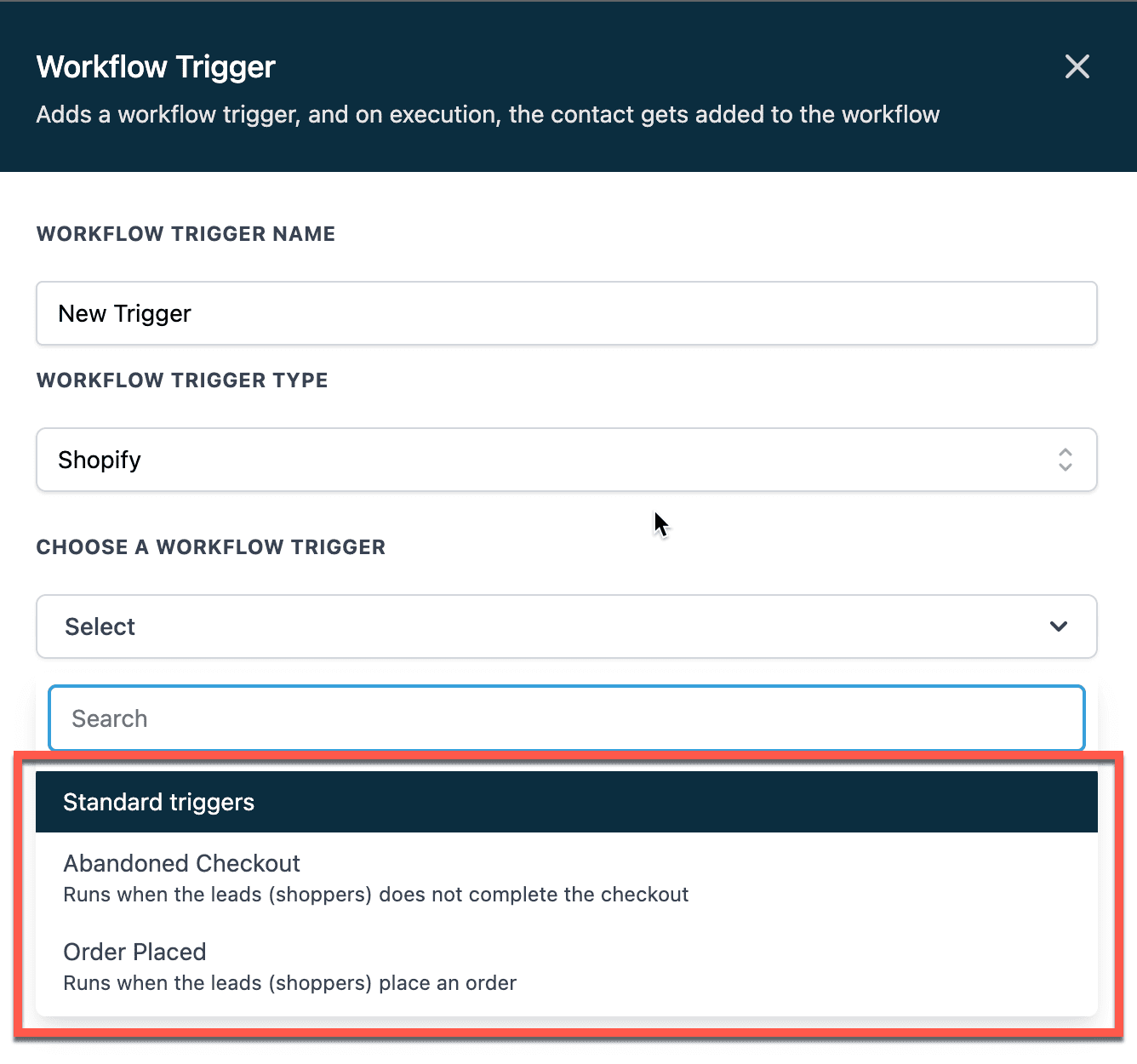 Shopify can be connected to GoHighLevel. With the integration, you can trigger a workflow based on a website visitor of Shopify abandoning the shopping cart or placing an order.
You can then set actions in the workflow to send emails and SMSs or perform many other tasks on the GoHighLevel contact record.
You can also send abandoned shopping cart emails to users with the cart details in the email so they can complete the order through GoHighlevel.
WordPress
There is a GohighLevel WordPress Plugin used to add the GoHighLevel pages from the funnels as WordPress pages.
Mailgun
Mailgun is the email provider GoHighLevel recommends to agencies use to send emails in GoHighLevel.
If you don't want to manage your own Mailgun account including domains, you can use GoHighLevel's Mailgun account. Currently, their Mailgun account doesn't have a high delivery rate, but they will be fixing this and encouraging agencies to start using their Mailgun installation shortly if they don't want to have the headache of managing email for their clients.
Twilio
All phone calls and SMS are received and sent through Twilio.
Currently, an agency can either set up their own Twilio account or add their clients under their account. Or they can sign each client up to their account.
Soon, GoHighLevel will be releasing the ability for agencies to sign up for the GoHighLevel Twilio account. GoHighLevel will do all the management and setup of client's accounts.
Zoom
When you connect Zoom to GoHighLevel it adds the ability for a unique Zoom link automatically be added to each GoHighLevel Calendar Appointment booked if the Zoom option is selected.
Quickbooks
Once an invoice is created in Quickbooks, the Quickbooks integration sends a review request to a contact in GoHighLevel.
If you want to do more with Quickbooks and GoHighLevel, you need to use Zapier.
Clio
The Clio integration sends a review request to a contact in GoHighLevel from Clio.
If you want to do more with Clio and GoHighLevel you will need to use Zapier.
Stripe
Stripe can be integrated into GohighLevel so contacts can make payments.
Stripe is used for invoices, payments made through funnels, and membership payments.
You can set up one-off payments and recurring payments in GoHighLevel.
Paypal
GoHighLevel also has a Paypal integration, and it works the same as Stripe.
Zapier
Zapier is one of the best integration apps around today. It can integrate with over 4,000 apps.
If one of the above integrations is not enough, you can resort to Zapier to integrate GohighLevel to almost any app.
Read an in-depth review of the GoHighLevel Zapier Integration.
My Verdict on GoHighLevel Integrations
I think GoHighLevel integrations are pretty robust, and most of the essential integrations are available.
Of course, there will always be integrations that users will want, but there aren't any missing integrations that stop agencies from using the platform.
Next Steps
I suggest you do two things next:
Try out GoHighLevel for a 14-day free trial
Read my in-depth GoHighLevel Review on how I use GoHighLevel for my marketing agency.