What is the GoHighLevel CRM
The GoHighLevel CRM (customer relationship management) is the platform's foundation. Therefore, all features revolve around the CRM as the focus of GoHighLevel is the contact.
Because GoHighLevel is an all-in-one sales and marketing platform focused on generating leads and sales for a business, the CRM is a super important component.
Unlike some other marketing apps, it does not disappoint as the CRM is not an afterthought or something that they feel they have to do and are not passionate about.
The GoHighLevel CRM has a robust feature set that helps service-based businesses get more leads, nurture those leads and convert those leads into clients.
GoHighLevel CRM Features
The GoHighLevel CRM is advancing fast, and GoHighLevel is releasing new features every week into the platform.
Below are the main features of the GoHighLevel CRM that I love:
Tagging

GoHighLevel has the concept of tagging. You can place a tag on a record when you are in a contact record. There are a few ways you can use tagging, including:
Grouping – Using the tag to group contacts into a smart list
Trigger – Use the tag to trigger a workflow
Reminders – Use the tag to remember that the contact has taken an action
Marketing Automation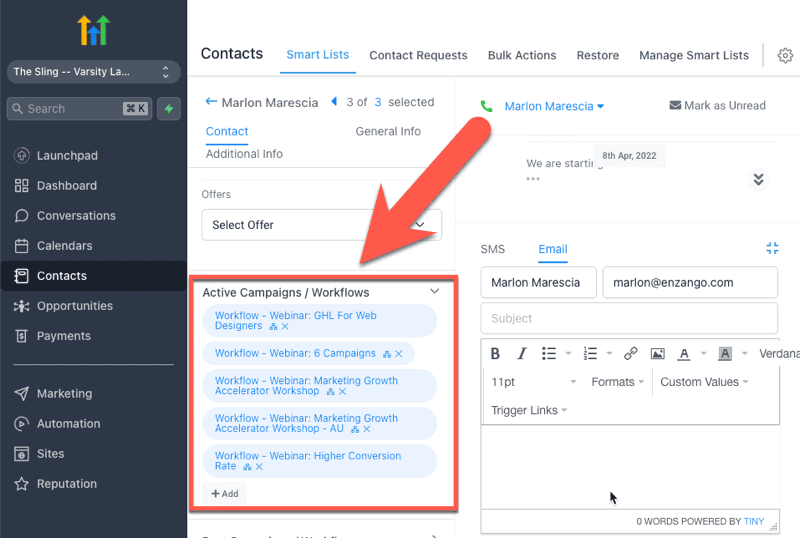 While in a contact record, you can add a contact to a workflow triggering a sequence of automated actions like:
Sending an email or SMS
Creating a note on the contact record
Add a task for a salesperson to complete at a future date
Update contact information
Send a notification to a salesperson or manager
And much, much more
Search and Filtering
GoHighLevel has good searching and filtering capabilities. They are basic, but they are adding more and more features. For most businesses, the existing search is more than adequate.
Full marketing and sales activity history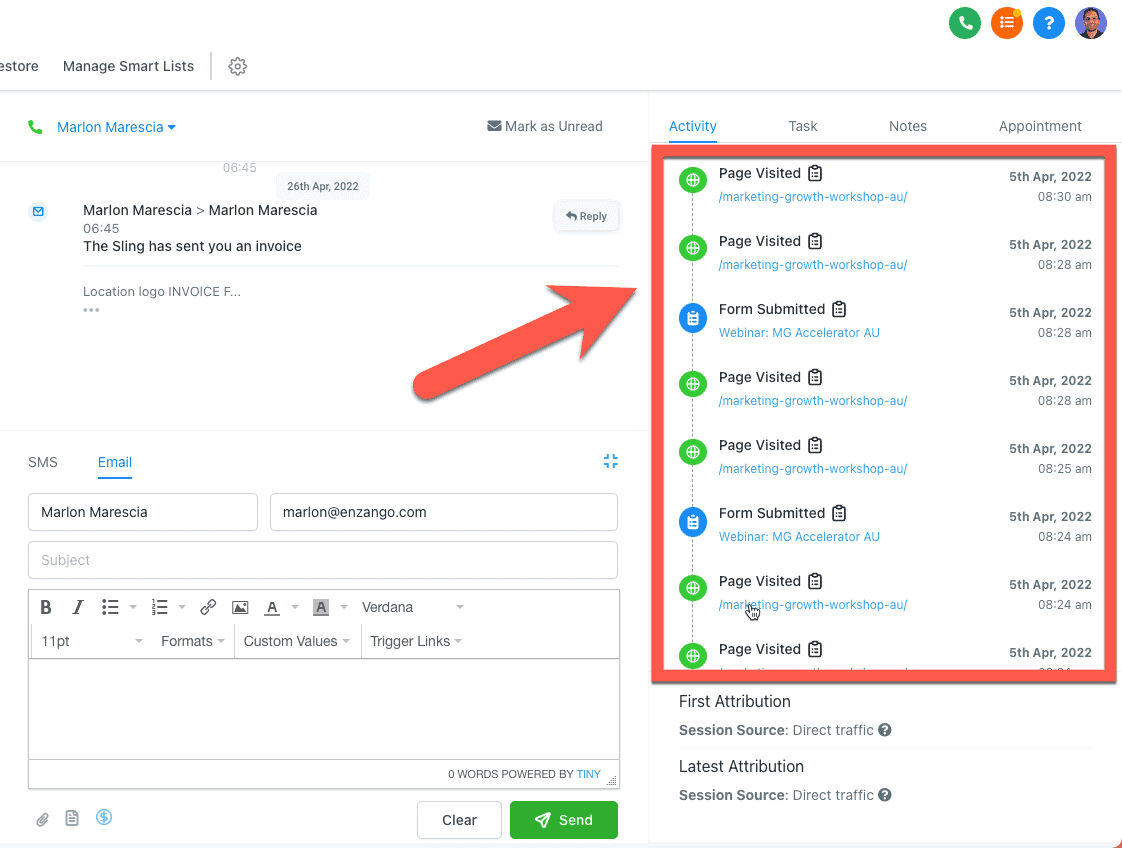 Another great feature of the GoHighLevel CRM is the entire history of all the contact activities.
GoHighLevel shows every action the contact has taken in the system, including:
Forms the contact has filled in
Pages the contact has visited on the website
Appointments the contact has booked, missed, and attended
Links clicked in emails
Phone calls and SMSs sent and received
Unified Inbox and messaging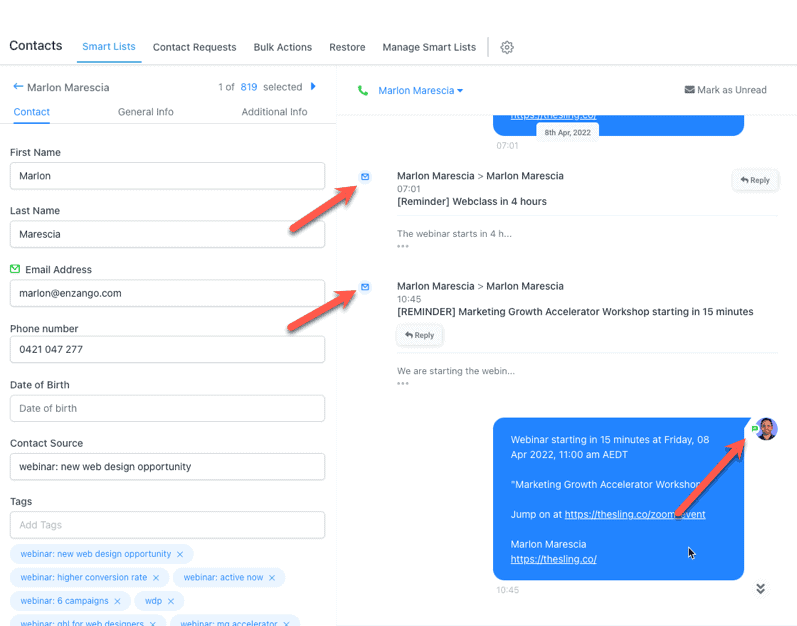 From the contact record, a user can see all the messages a contact has sent and received through:
Facebook Messenger
Instagram Messenger
Email
SMS
Google Business Profile
WhatsApp
The user can also reply to and send messages from the user platform from any of the above services.
Lead Source Tracking
The GoHighLevel CRM can be integrated with Google Analytics, Google Ads, Facebook Ads, Instagram, Facebook, and Google Business Profile.
GoHighLevel can determine which platform the contact first entered the CRM with these integrations.
Because the CRM is also integrated into the sales pipeline, GoHighLevel can create reports on how much money each marketing platform has earned and how many leads have been generated from each platform.
Request payment from the CRM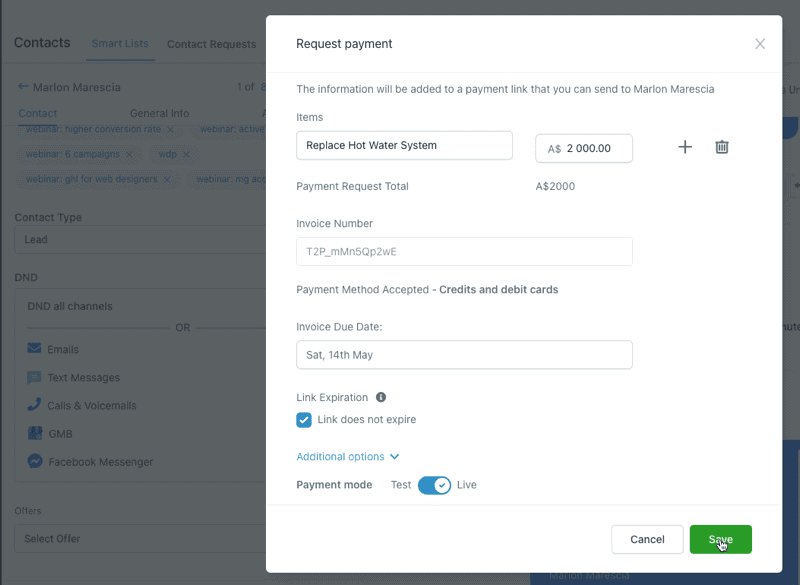 The GoHighLevel is also integrated into the GoHighLevel invoicing system so users can send payment links to clients to make payments via credit card directly from the contact record.
Make calls from the contact record
GoHighLevel integrates with Twilio for phone calls so users can make calls directly to contacts from the desktop and mobile app.
These calls can also be recorded so managers can coach the salespeople.
The Mobile App Experience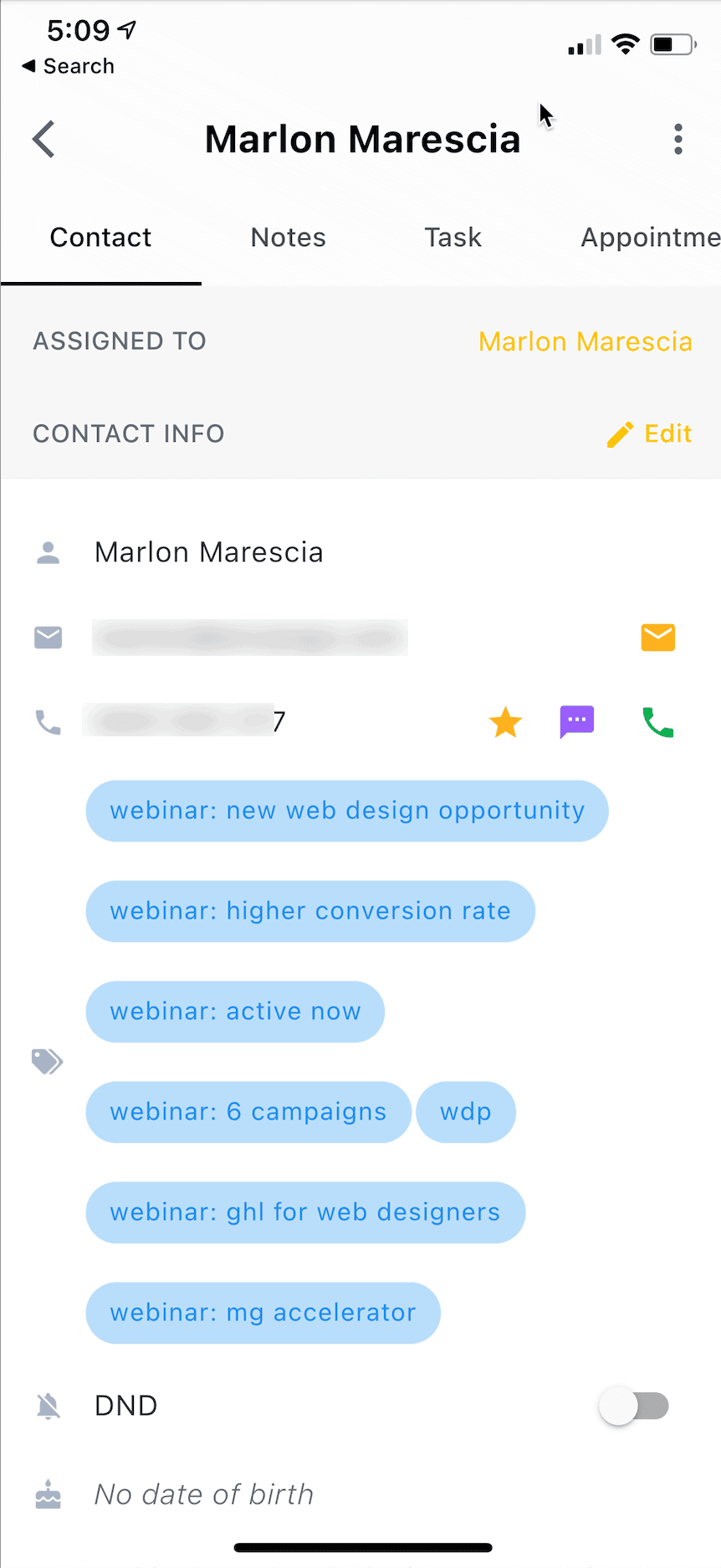 The mobile app is fantastic as you can work with your contacts and respond to notifications while you are on the go.
You can message your contacts on all platforms and make calls from the mobile app.
Send personalized videos
One of my favorite features of the GoHighLevel CRM mobile app is recording a personalized video directly from your phone and sending the link to it in an SMS message.
This is one of the most powerful things you can do to touch base with a new lead or someone that has booked an appointment in your calendar without calling them.
Smart Lists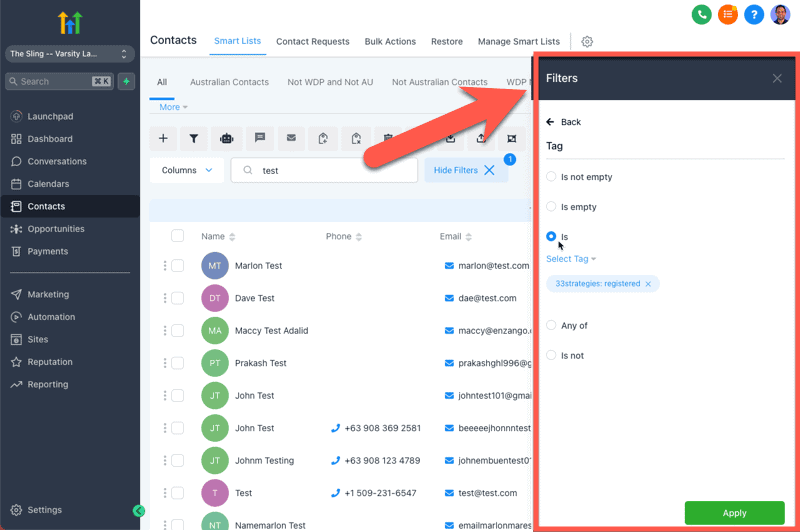 Smart Lists are saved searches in the GoHighLevel CRM. These saved searches can be used in other parts of the platform, like when you require a list of contacts to send a marketing email.
You can perform complex searches based on tags, contact data, custom fields, opportunity information, and contact activity.
Quick Actions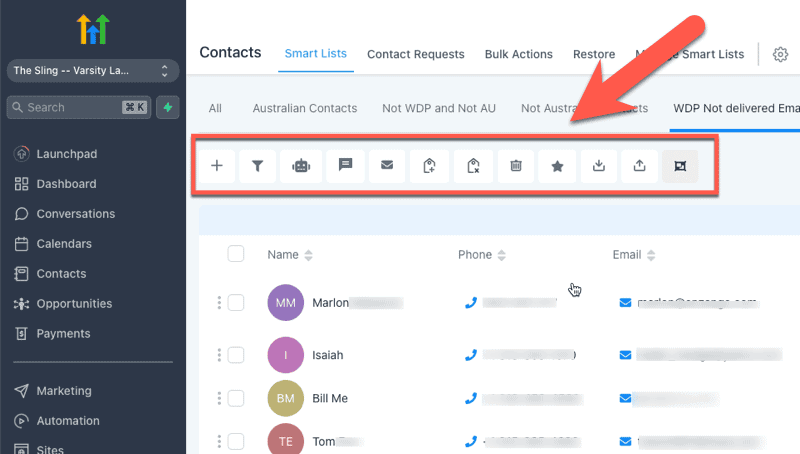 The quick actions menu is a great tool to make changes to contact in bulk. You can select contacts by clicking the check box next to the contact name. Then you can perform actions on those contacts like
Add them to a Workflow
Send them an SMS
Send them an Email
Add or remove a tag
Delete the contacts
Add them to a sales pipeline or move them to another pipeline stage
Export the selected contacts
Merge contacts
Custom Fields
The custom fields are an excellent way to add extra information to the contact record that is important to your business.
What I Like about the GoHighLevel CRM
The GoHighLevel is as good as any CRM. There is nothing exceptional about it except that it is fully integrated into one of the world's most powerful marketing automation tools.
This is what makes the GoHighLevel CRM so powerful.
What I Don't Like about the GoHighLevel CRM
There are a few limitations of the GoHighLevel CRM:
No Companies
As of writing, the GoHighLevel CRM does not have the concept of a company record. The company is attached to the contact. Therefore you can't have one company with many contacts attached to it.
This will be resolved in the second quarter of 2022. It is currently being worked on.
A little slow
The user interface is a little slow, but GoHighLevel is aware of it, and they are making improvements to the speed.
It is taking time because they are only three years old and add a considerable amount of new features every month.
I find it easy to forgive them for this as they are improving it, and in just three years, they have built a vastly superior platform to other apps that are 10-15 years old, including Keap, ActiveCampaign, and Ontraport.
The user interface is not as beautiful as its competitors
The user interface isn't as attractive as its competitors.
Again this is due to them adding much-needed features and not focusing on the user interface. However, it is adequate, and I still enjoy using it.
One day they will make it look nicer, but for me, the power functionality makes it easy to forgive the user interface limitations.
My Verdict on the GogHighLevel CRM
I just love the GoHighLevel CRM.
No, it is not perfect, but it is powerful and has all the features I use for my business and clients.
They are constantly improving it, and I am sure that in the next 12 months, it will be one of the best CRMs on the market for small businesses.
Next Steps
I suggest you do two things next:
Try out GoHighLevel for a 14-day free trial
Read my in-depth GoHighLevel Review on how I use GoHighLevel for my marketing agency.