GoHighLevel is an all-in-one marketing app with all the features you require to promote your business.
But there are times you need to integrate GoHighLevel with other apps, services, and workflows.
That is where the GoHighLevel Zapier integration can help you do more with GoHighLevel.
Why do you need a GoHighLevel Zapier Integration?
Zapier is an integration app that allows you to connect over 4000 apps so you can:
Move data from one to the other
Kick-off workflows
Send emails
Update apps
And many more tasks
The power of Zapier is that when you connect your app to it, you can now connect it to over 4000 other apps.
What is the name of the GoHighLevel Zapier Integration?
When you use GoHighLevel and Zapier, it can be confusing as GoHighLevel did not use their name for the integration.
Instead, they used LeadConnector as the name. Why? Because GoHighLevel was not built for the business owner. It was built for marketing and web design agencies that can white label the app.
So calling the integration GoHighLevel will let the agency clients know that the app is white labeled.
By calling the Zapier integration, LeadConnector agencies can white label easier.
FYI the GoHighLevel mobile app is also called LeadConnector.
What can you do with the GoHighLevel Zapier Integration?
The GoHighLevel Zapier integration allows you to trigger events based on actions in GoHighLevel and complete actions in GoHighLevel and other apps.
GoHighLevel Zapier Triggers

There is only one GoHighLevel trigger available today. It is a trigger based on a Pipeline Stage Changed.
This means that when a sales stage in a sales pipeline is changed, you can trigger Zapier to execute and start completing a series of actions.
GoHighLevel Zapier Actions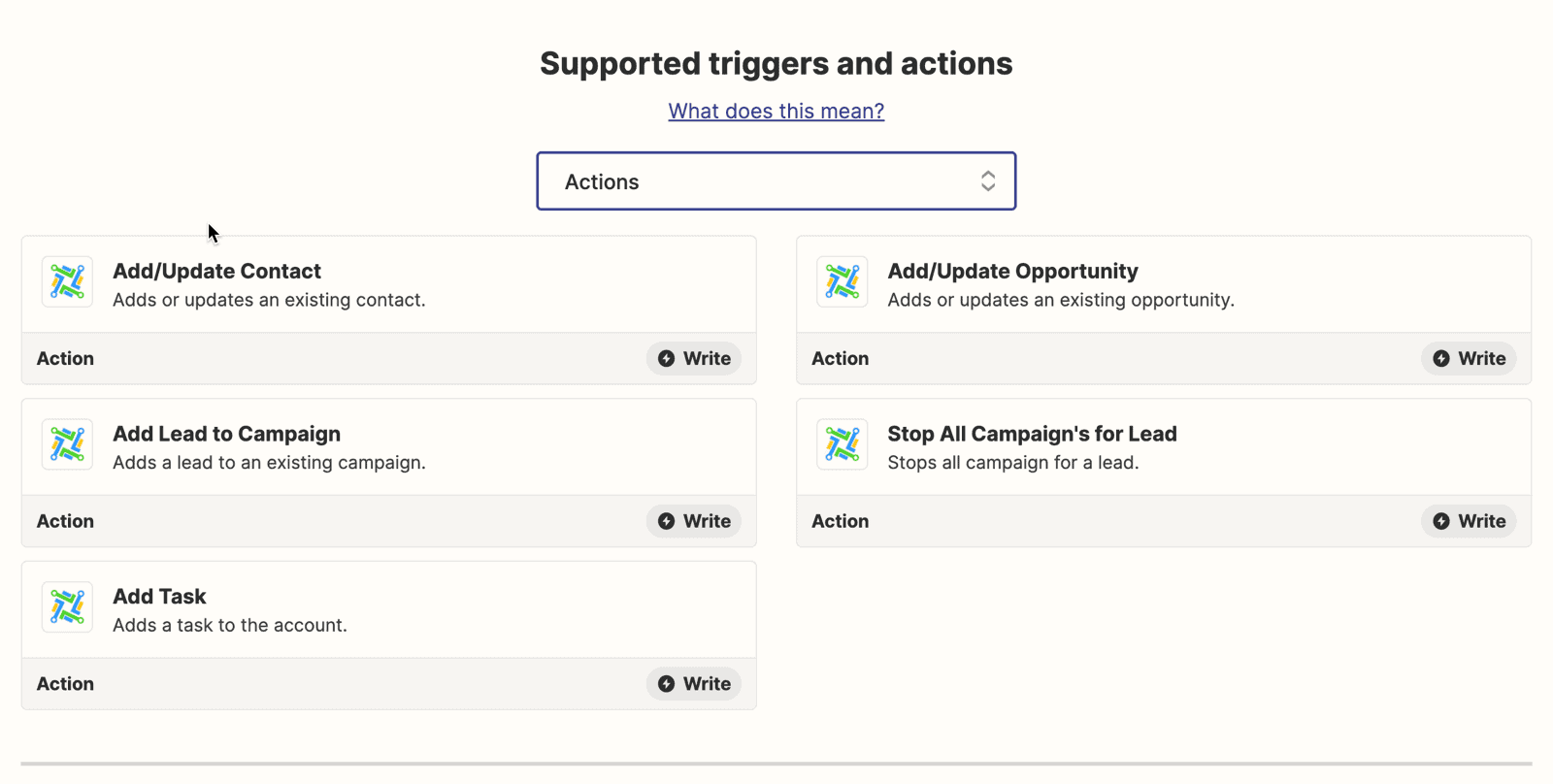 There are 5 Zapier Actions you can use to interact with GoHighLevel using Zapier.
You can:
Add/Update a Contact
Add a Lead to a Campaign
Add a New Task
Add/Update Opportunity
Stop All Campaigns for a Lead
Alternatives to GoHighLevel and Zapier
Zapier is not the only integration app on the market.
Some of the noteworthy competitors are:
Make (formerly Integromat)
Make is much cheaper than Zapier. It doesn't have as many integrations, but it has more flexibility and power to do complicated tasks and actions.
It is not great for beginners, but if you are a power user, it is better than Zapier.
Most people use Make over Zapier because it is cheaper and more powerful, but Zapier is so much easier to use for a business user.
Pabbly Connect
Pabbly is a new app, and it is excellent because it cheaper than Zapier.
Many GoHighLevel Agencies have moved over the Pabbly from Zapier and are very happy using it.
The feature set is not as advanced, but that is not a problem if you don't need those features.
THE PROS of using Zapier with GoHighLevel
The GoHighLevel Zapier integration is perfect for beginners and business people. It is easy to use and integrates with more apps than any other platform.
THE CONS of using Zapier with GoHighLevel
The GoHighLevel Zapier integration is problematic when you need to use many tasks every month. The cost of tasks becomes very high, and many agencies have abandoned Zapier purely because they couldn't afford to lose their profit to Zapier on projects.
My Verdict on GoHighLevel and Zapier
I love Zapier and have used it for many years. But the pricing is an issue for me.
I have personally moved over to Make to reduce costs. The user experience is not as good; it did take longer to learn, but I am happy with it.
If you are a business user or agency, I recommend starting with Zapier with GoHighLevel, as it is the quickest to get up and run.
Do you want to know if GoHighLevel is the best option for your business or agency?
Read a detailed GoHighLevel Review on how I use it in my business.
Next Steps
I suggest you do two things next:
Try out GoHighLevel for a 14-day free trial
Read my in-depth GoHighLevel Review on how I use GoHighLevel for my marketing agency.