In this GoHighLevel Review, we go through the top 27 GoHighLevel features that will your and your client's businesses.
What is GoHighLevel
GoHighLevel is an all-in-one marketing platform that includes everything a small business needs to promote its business online and make sales.
GoHighLevel allows digital marketing agencies and web designers to sell a marketing platform to their clients where they get to keep 98% of the income.
Are you tired of winning clients and signing them up for expensive marketing apps to lose $100 – $500/mth to the software vendors?
With GoHighLevel you can now keep 98% of this money.
GoHighLevel is an all-in-one sales and marketing platform that replaces about 12 different apps, making it cost-effective and much easier to deploy for each new client for a marketing agency.
In this article, I will show you how each feature of GoHighLevel can be used to generate outcomes your clients are thirsty for and for which you can charge a premium monthly retainer.
And best of all, these features can be turned into a Marketing System, NOT a Marketing Service.
Click to find out why agencies who deliver Marketing systems are 5X times more profitable than agencies who provide Marketing Services.
If you are ready, let's get started on this GoHighlevel Review.
The Top GoHighLevel Features We Use In Our Agency
1. GoHighLevel Reputation Management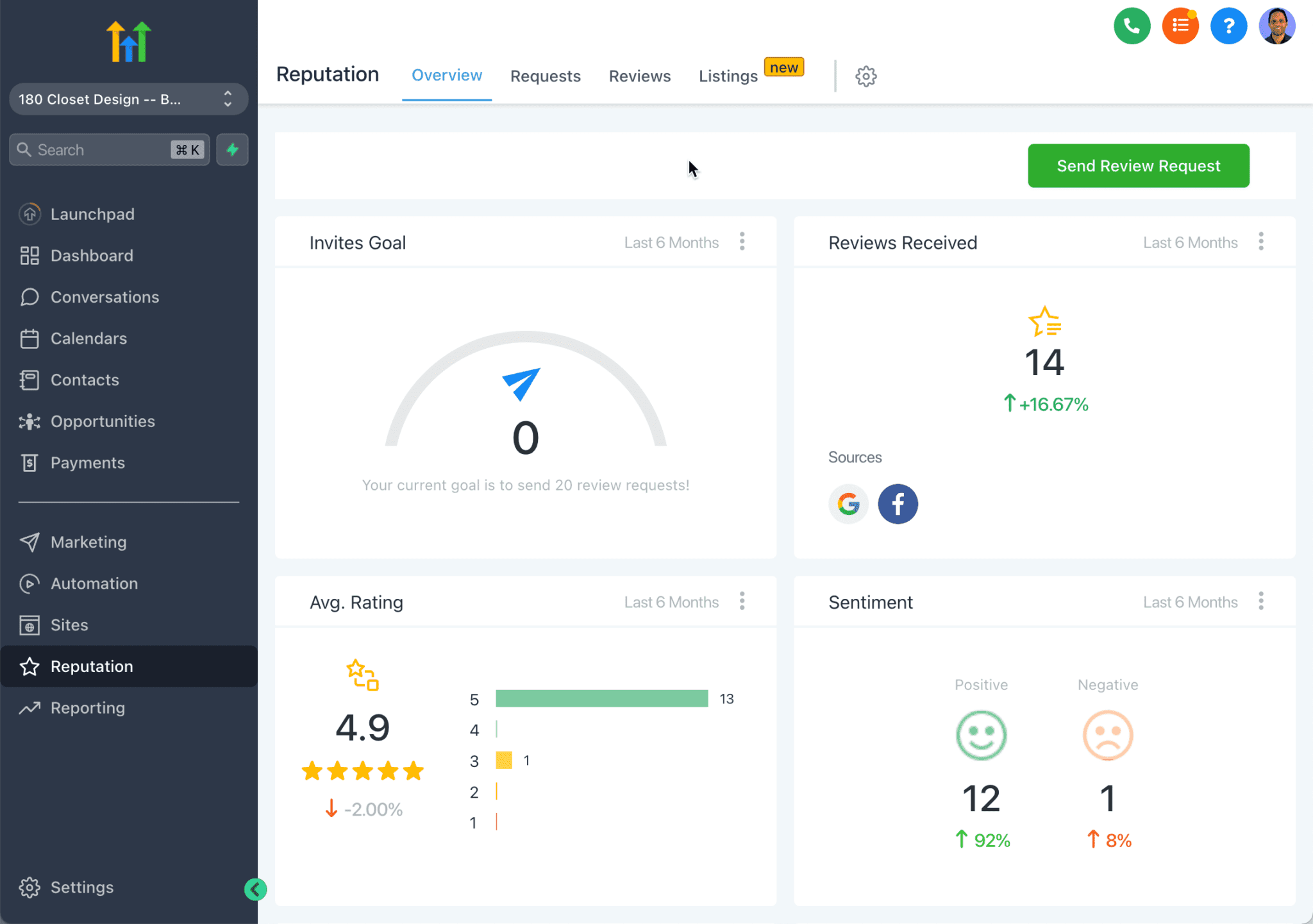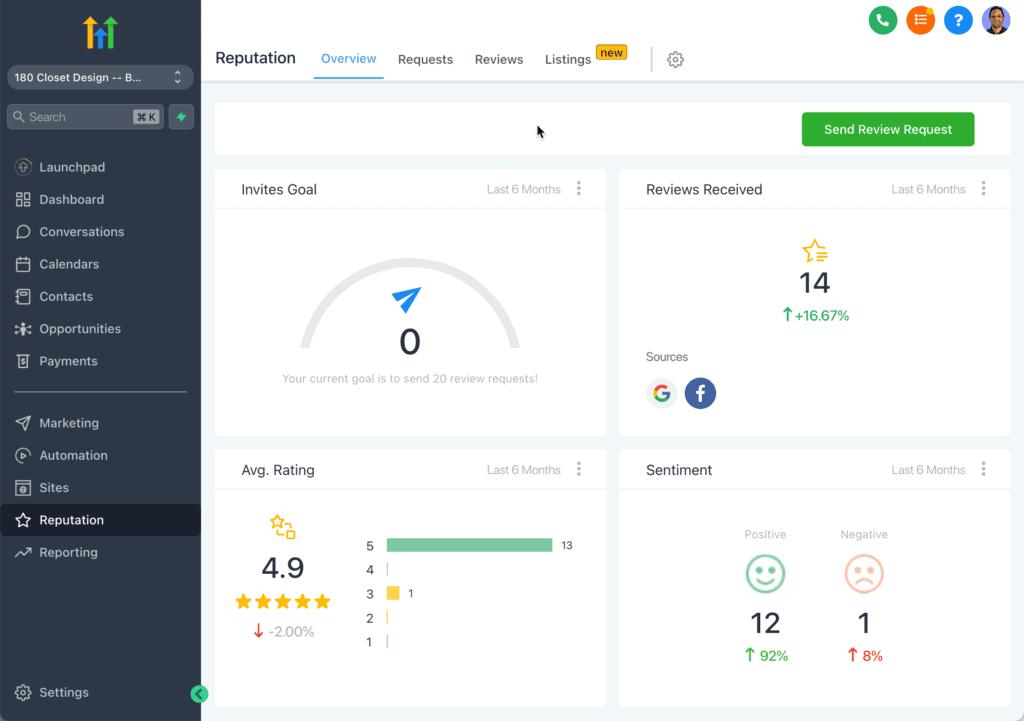 GoHighLevel has full integration with Google Business Profile, so your clients can monitor their profile directly from GoHighLevel.
You can also create GoHighLevel workflows so your clients can send requests to their clients through SMS to submit a Google Review.
Other platforms sell this service from $100 – $300 per month.
2. Yext Listings
Yext allows a business to submit their company details in one location and have those details updated across more than 50 listing sites across the internet.
It is an excellent service to help your clients create high-quality backlinks and keep their contact details up to date at the click of a button, so they don't lose free leads.
GoHighLevel has integrated with Yext Listings, so you can resell this service and put a markup on it.
GoHighLevel has secured a group discount for partners, so we only pay $30/mth and can resell it for any price we nominate. So if you charge this service at $100/mth, you will make $70/mth every month.
3. GoHighlevel Review of The Website Builder
GoHighLevel has a website builder built-in so you can provide your clients with a website. The benefits of using a GoHighLevel website are:
Hosting is included
You can install the whole website at the click of a butt
You can configure the website using custom fields, so setting up the website can take only hours instead of days or weeks.
Find out more about the pros and cons of using the GoHighLevel Website builder.
4. GoHighLevel Chat Widget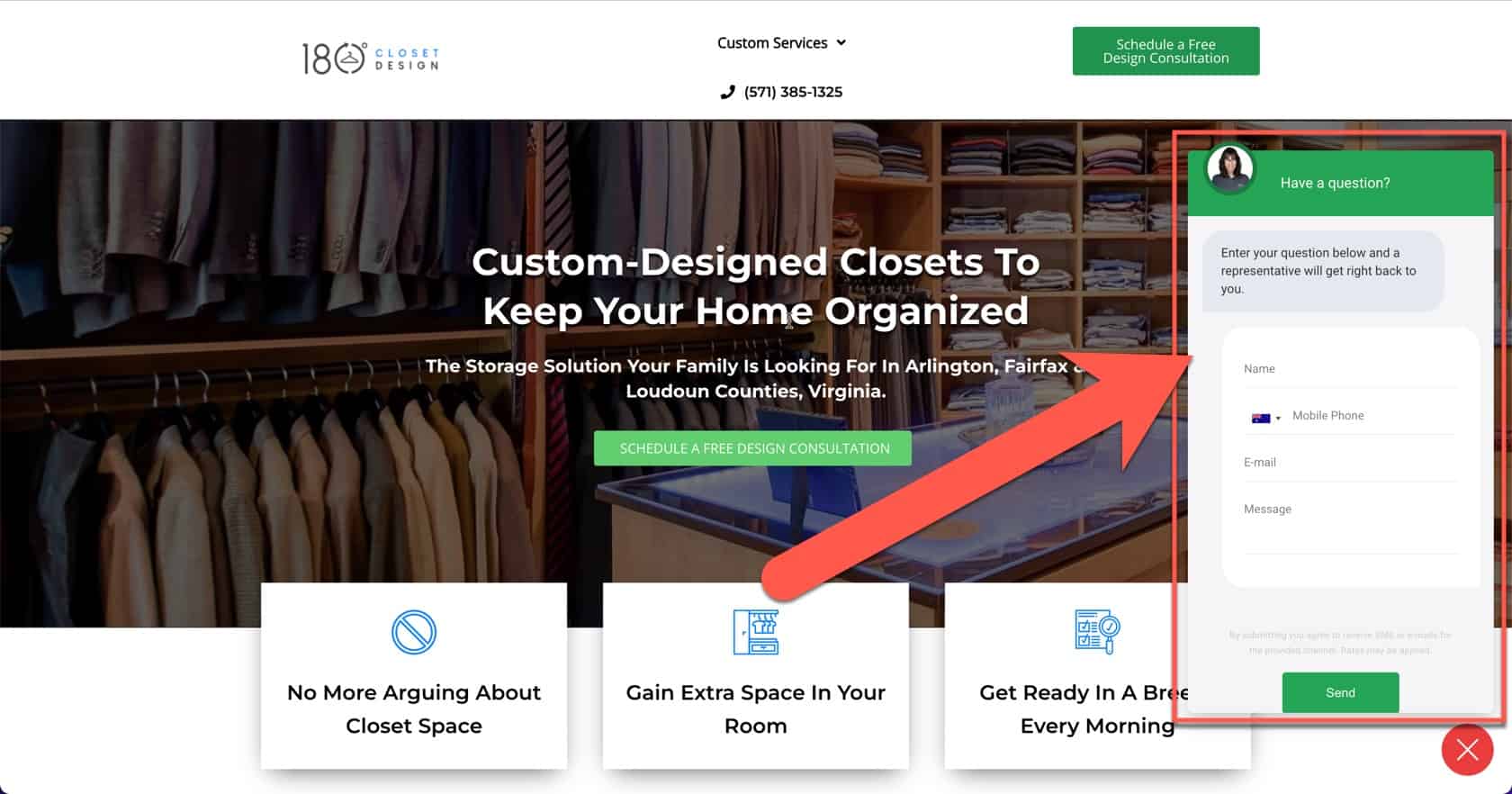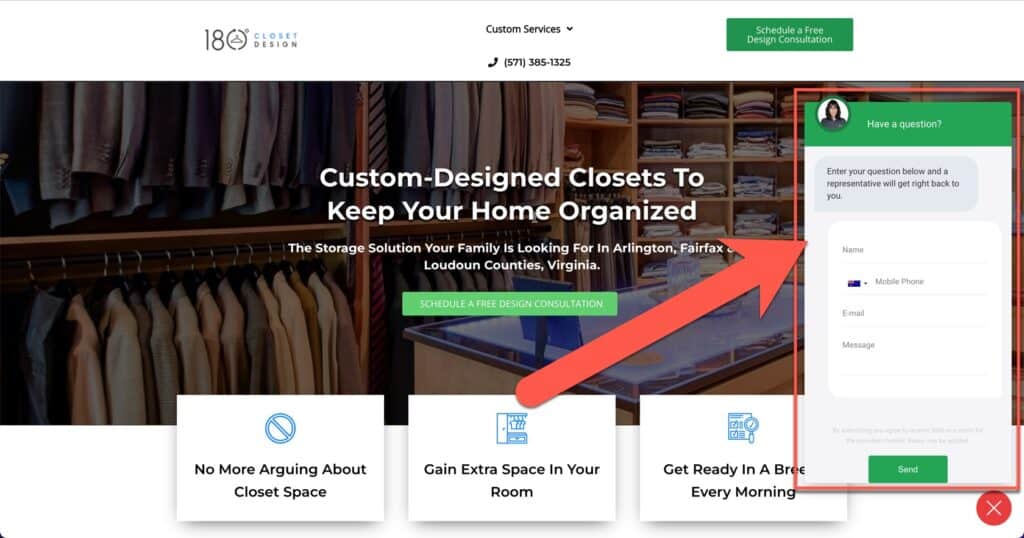 One of the best ways to capture leads from a website is by installing website chat.
Website chat allows your visitors to contact a business instantly while they are excited about the product or service.
It also allows the business to capture their contact details and remarket them later.
GoHighLevel has web chat built into the platform and has a genius feature that makes it the best chat widget.
Read our detailed GoHighLevel Chat Widget Review.
5. GoHighlevel Missed Call Text Back
One of the most significant losses of sales for many small businesses is when a prospect calls and they miss the call.
When this happens, the client will most likely just call the next business in the Google search results, and the sale is lost.
GoHighLevel's Missed Call Text Back feature sends an SMS message to the caller to acknowledge the business missed the call and ask them if they have any questions.
This is an excellent service you can add to your clients and help them make more sales from the same leads.
6. Google Ads Call Tracking
GoHighLevel allows businesses running Google Ads to track each phone from a Google Ad campaign in the GoHighLevel reporting.
This means you can track where sales are being made based on clicks and phone calls from Google Ad campaigns.
7. GoHighLevel Review of Funnels and Landing Pages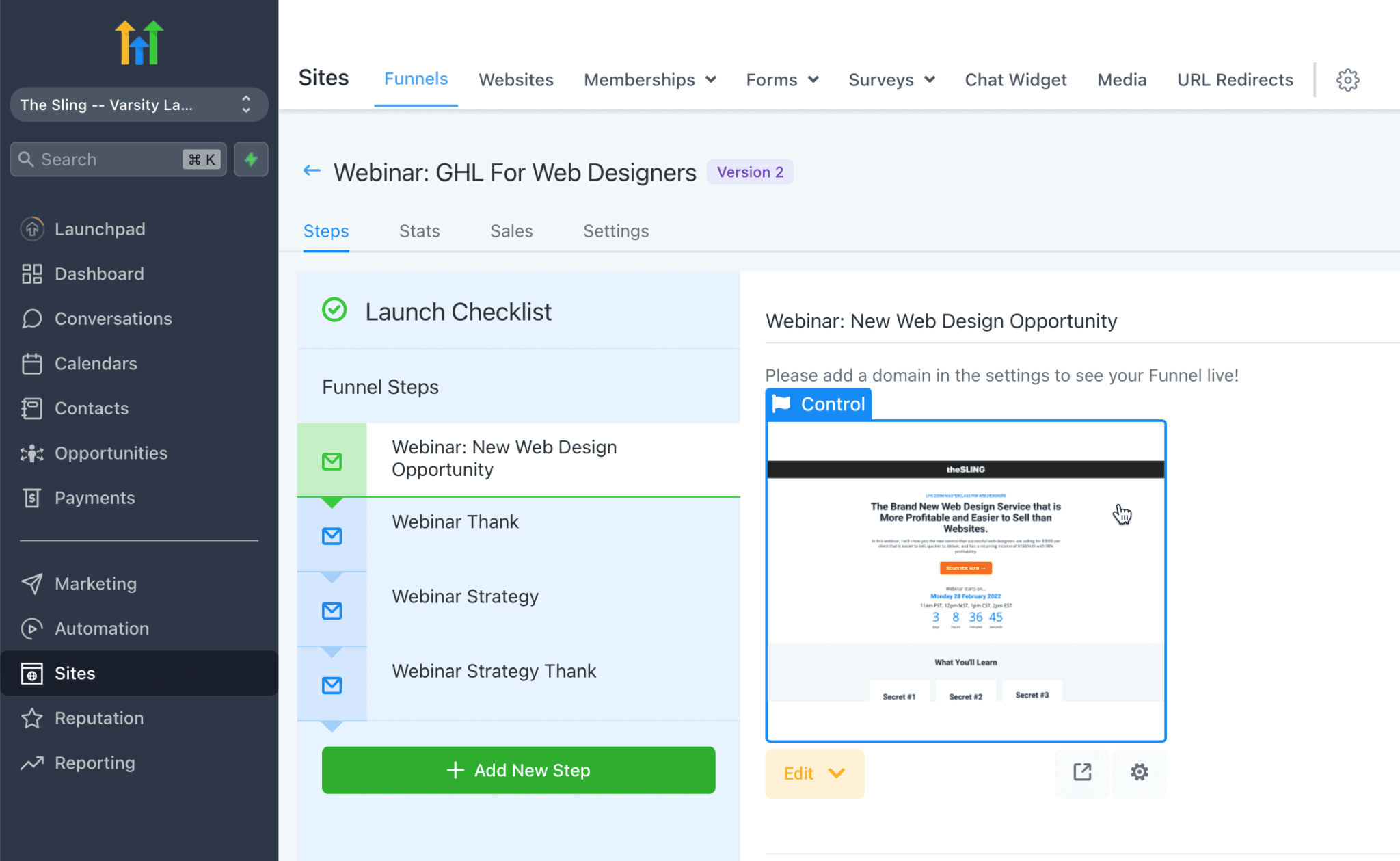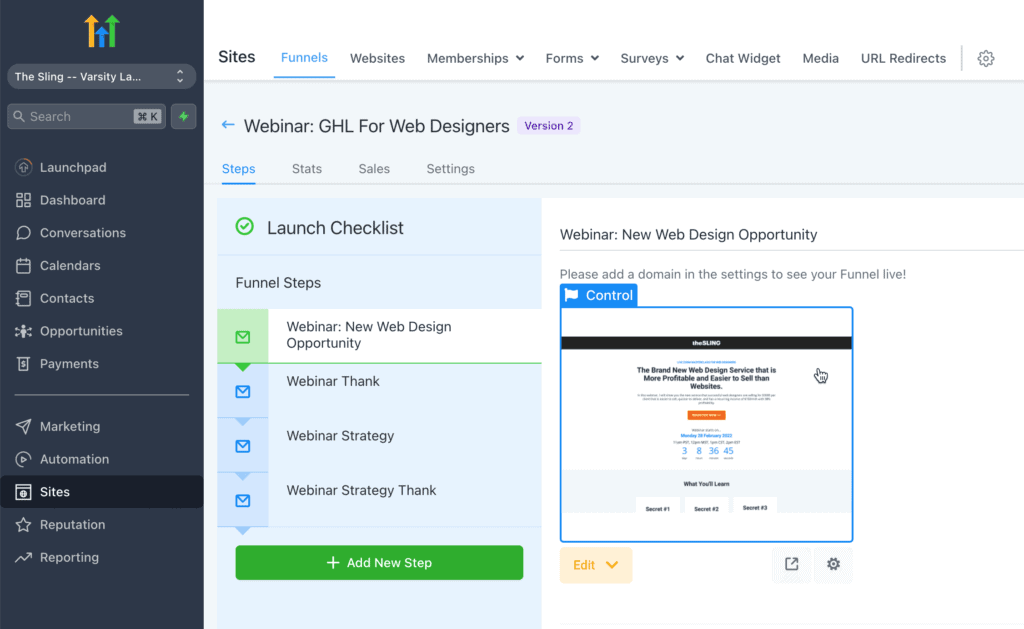 One of GoHighLevel's most robust features is the ability to create landing pages and marketing funnels.
The feature set will allow you to build any marketing funnel for your clients, including:
Landing pages
Forms
Popups
Payment integrated with Stripe and Paypal
Full integration with the rest of the GoHighLevel features like membership sites, workflow, CRM, sales pipeline, and two way SMS
8. GoHighLevel Membership Sites
GoHighLevel also includes full membership site features where your clients can host their online courses.
With the GoHIghLevel features, you can create a website for your client's program, a sales page to sell it, and a payment page to process the payment using stripe and then automatically add each new member GoHighLevel membership site.
It is an excellent replacement for Teachable and Thinkific.
9. Analytics and Reporting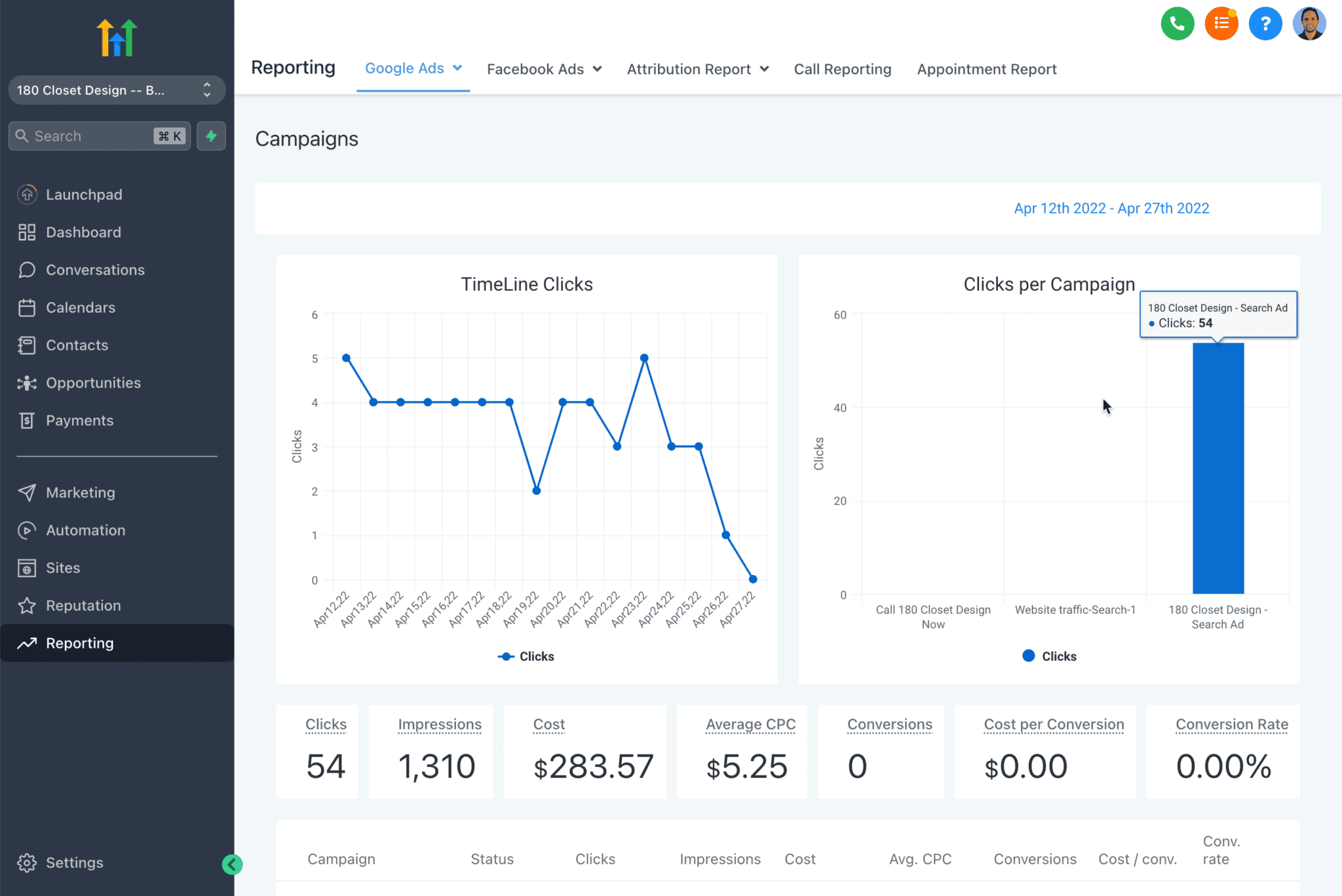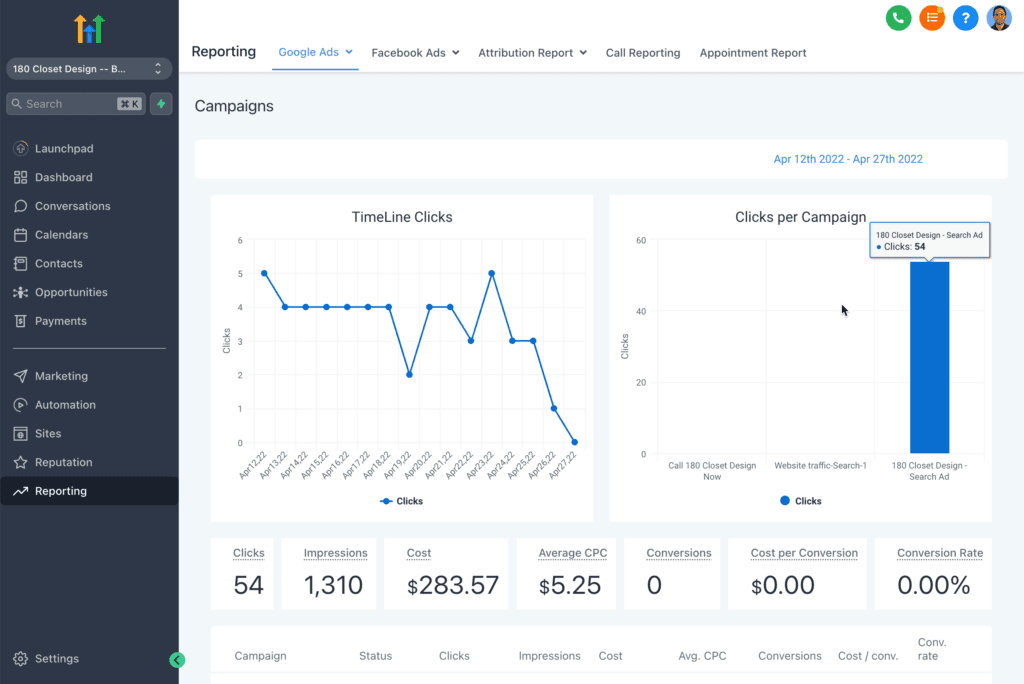 GoHighLevel reporting allows you to track each prospect's journey from the marketing campaign to the sale.
It allows you to view the data from Google Analytics, Google Ads, and Facebook ads.
You can also track the inbound and outbound calls, the sales pipeline, and appointments to get a 360-degree view of the client.
With all this data tracked in GoHighLevel, you can show your clients every interaction the client took from the first time they saw their business to when they became a client.
Having the CRM and Sales Pipeline integrated allows you to understand how much money the client has made from each marketing channel.
10. GoHighLevel CRM
GoHighLevel includes a customer relationship management system (CRM).
Most marketing platforms don't include a full-featured CRM that can be used for all your client's salespeople.
GoHighLevel does, and it allows your clients to replace their expensive CRM with one that is fully integrated with their marketing platform.
This feature alone is worth your clients moving to GoHighLevel. It helps the clients see a 360-degree view of all their marketing campaigns related to each client and prospect and stops the need to use apps like Zapier and Make to integrate this data.
Read a detailed Review of the GohighLevel CRM.
11. GoHighLevel Sales Pipeline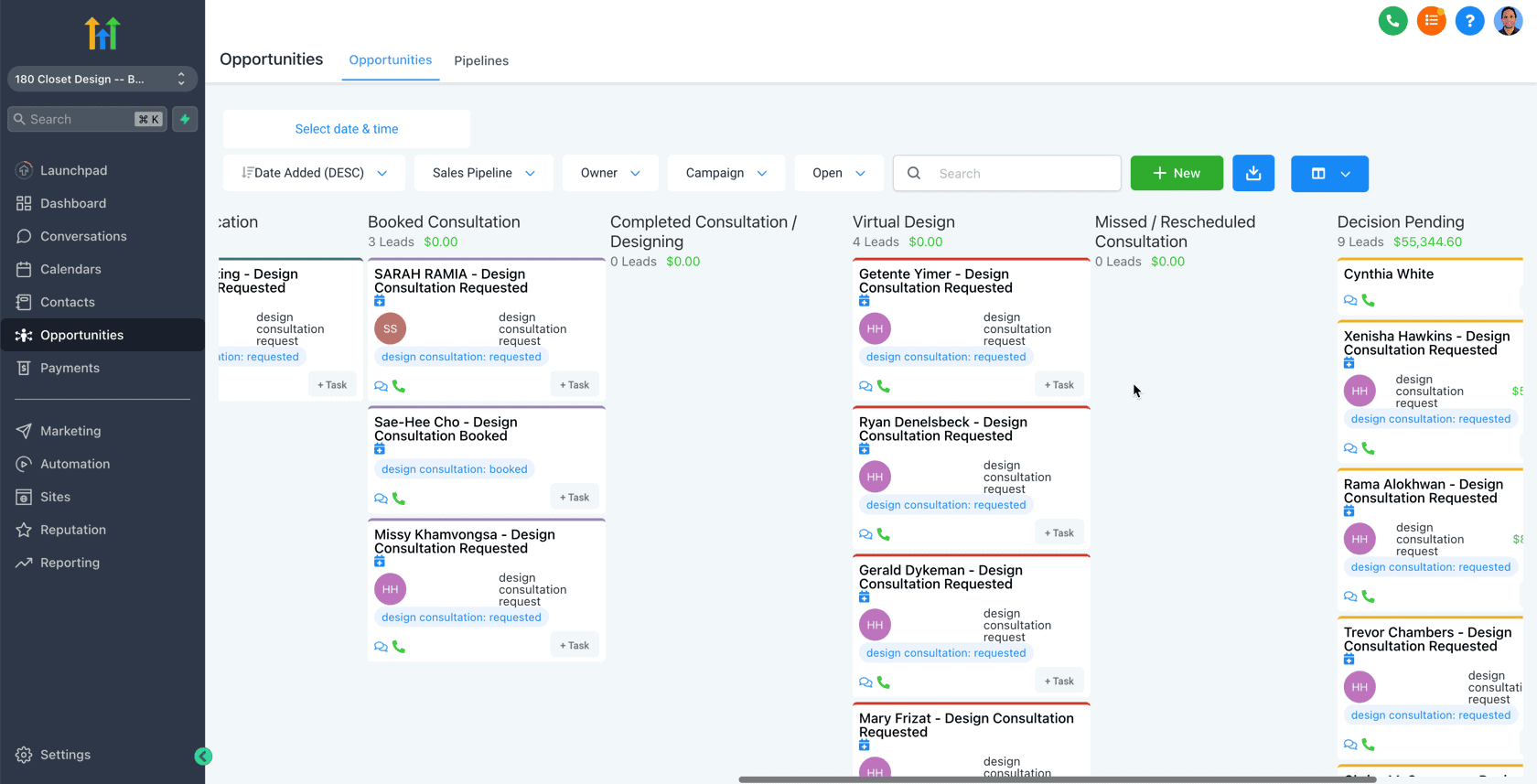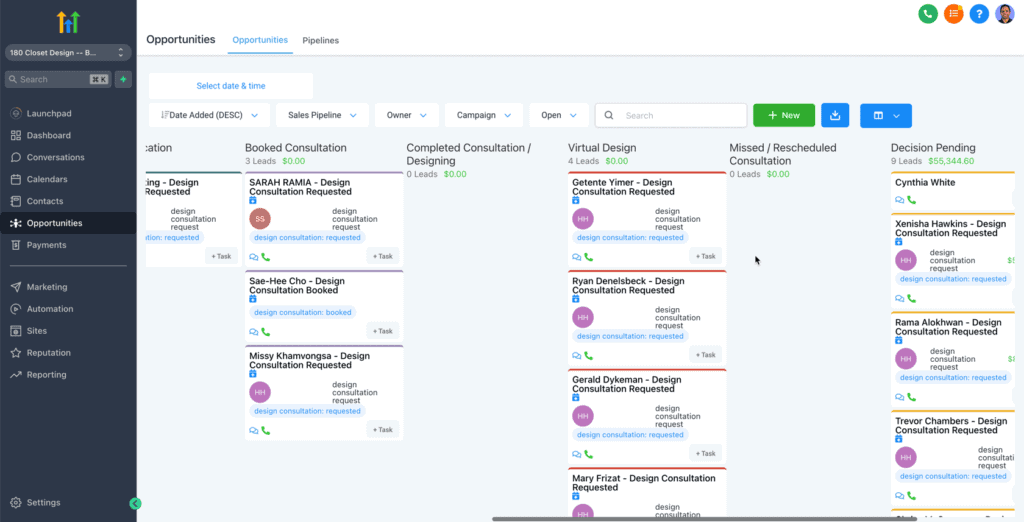 GoHighLevel also includes a full sales pipeline that allows your clients to track where each lead is in their sales process visually.
This visibility alone will help your clients close more deals and help justify your marketing efforts.
The Sales Pipeline can also trigger GoHighLevel Workflows that can automate tasks in the sales process like sending SMSs and emails, creating tasks and reminders, and notifying managers when prospects are not being followed up.
The Workflows can save a lot of time for salespeople in the sales process and ensure that salespeople are completing essential tasks that will contribute to winning more sales.
12. GoHighLevel Workflows
One of GoHighLevel's most powerful features is Workflow, sometimes known as marketing automation. GoHighLevel takes these features to the next level by integrating workflows into the CRM and sales process.
Something many other platforms can't do as they are not CRMs.
GoHIghLevel Workflows allow you to trigger actions based on actions users and prospects take.
Whether it is a marketing or sales-related task, workflows can be triggered to save your client time, move a client along the sales process, or complete tasks automatically.
Compared to other platforms on the market like ActiveCampaign, Keap, and Ontraport, GoHighLevel is as good as if not better than all competitors.
Click to find out more about GoHighLevel's Workflow features.
13. GoHighLevel Calendar
Allow your prospects and clients to book appointments directly in your calendar is an integral part of many businesses today.
You can use so many platforms like Calendly, Acuity Schedule, and Schedule Once.
All these platforms have different features and variable prices.
The GoHighLevel calendar is great because there are no limitations, and it is full-featured.
It is also fully integrated into the GoHighLevel, Workflows, Funnels, Payments, and CRM, so no integration is required.
We are halfway through this GoHighLevel Review, and the features will only get better.
14. GoHighLevel Unified Inbox
GoHighLevel has a Unified Inbox which means you go to one location to view and respond to your client's messages from Facebook and Instagram Messenger, Google Business Profile, What's App, SMS and Email.
There are so many platforms your clients can message their prospects from today, including Facebook, Instagram, Google Business Profile, SMS, Email and What's App.
Many messages are missed because the client doesn't have the time to check each platform daily, and therefore they are missing sales.
This is a feature that will save them time and increase their sales.
15. GoHighLevel SMS
Many marketing platforms don't allow you to send SMSs from their platform. Others don't allow for two-way SMS messaging.
Two-way SMS messaging is when you can reply to the client, and they can respond to you via SMS.
This means your clients can have a proper conversation with their prospects and close the sale via SMS.
To set this up in many systems, you have to integrate multiple platforms. This can get costly and time-consuming to set up.
16. GoHighLevel Social Media Posting
Today, social media is a great tool to reach more prospects and nurture your existing prospects and clients.
But posting regularly is not easy for most businesses.
Some use social media posting platforms to schedule their posts, like Buffer, Hootsuite, and Sprout Social.
But these platforms can get expensive to run.
GoHighlevel has its own social media tool built-in, and it has the same functionality as these other platforms.
Your clients will be able to save money and time by using the one tool for all their marketing.
17. GoHighLevel Surveys and Quizzes
Quizzes and surveys are great tools to use in the lead generation process.
When building these for clients, most agencies will use Jotform, Survey Monkey, and Typeform.
GoHighLevel has its own Survey software built-in.
It may not be as elegant as Jotform or Typeform, but it is fully integrated into the marketing and CRM platform, so no additional integration is required.
18. GoHighLevel Forms
GoHighLevel has a built-in form builder, so the data you collect from your landing pages, payment pages, and website are entered directly into the CRM and Marketing Automation app.
There is no need to integrate your payment, website, or landing page forms into your marketing automation app and CRM using Make or Zapier.
19. Voicemail Drops
Voice mail drops are a great trick to contact your prospects without speaking to them.
GoHighLevel can call a prospect with a voicemail drop, so the call goes straight to voicemail. GoHighLevel then leaves a prerecorded message.
It's like getting the benefits of calling a prospect without calling a prospect.
You can use voice mail drops for:
In a GoHighLevel workflow to remind a prospect to attend a webinar
In a workflow to remind a prospect to turn up to an appointment, they have booked
A sales rep calls someone, and when they don't pick up, the sales rep can leave a voicemail message instead of manually leaving one.
There are endless ways you can use voicemail drops when you combine them with GoHighLevel Workflows.
20. Outbound and Inbound Phone Calling
A user can make outbound calls directly from a contact record in GoHighLevel.
When prospects call, the calls can also be received in GoHighLevel.
With a GoHighLevel account, your clients can replace their phone systems for salespeople.
Phone calls can also be recorded in GoHighLevel so a manager can monitor the calls to ensure salespeople are using scripts and be coached to improve their performance.
This also means that GoHighlevel can create reports on phone calls made.
21. GoHighLevel Eliza Bot
The Eliza Bot in GoHighLevel lets you build a GoHighlevel workflow that follows up with each new lead using an SMS.
You can ask the lead if they want to book a call with the business in the SMS.
If they respond yes, you can ask them what day and time they are available.
The Eliza Bot will then find a time in the calendar and make suggestions.
It will continue to interact with the lead until they find a suitable time to use natural language.
When a time is found, the bot will make the booking, send the client a confirmation email, SMS, and appointment, and add them to a reminder sequence.
Pretty amazing!!! I know.
It still blows me away when I see appointments being set without any human interaction.
All this is done while the lead thinks they are talking to a human.
22. GoHighLevel Email Marketing
Email marketing is the bread and butter of every online marketing strategy.
GoHighLevel includes a solid email marketing platform.
It is comparable to Mailchimp, ActiveCampaign, and Constant contact in features.
It has a good set of reports that allow you to assess the success of each campaign so you can make improvements.
23. Payments
GoHighLevel has a complete payment platform where you can take credit card payments from clients for your invoices, products, and memberships.
It integrates these payments into the membership site, so once a payment is made, the user gets added to the membership, and a workflow can start.
There is no need to have a 3rd party app like ClickFunnels, SamCart, Chargebee, or Thrive Cart.
This functionality will save your clients money and remove the need to integrate these 3rd party apps saving much time.
24. GoHighLevel Snapshots
One of the primary reasons I have chosen to use GoHighLevel overall its competitors is the Snapshot functionality.
You can take a snapshot of an account and then copy that snapshot into a new account with the click of a button.
When a snapshot is copied, GoHighLevel installs an identical copy into the new account, including workflows, funnels, websites, email templates, configurations, sales pipelines, and everything else in the snapshot.
Every time we work with a new client, this feature alone saves my team two days of work.
Snapshots have transformed my business and my profitability over the past two years.
25. Custom Values
You can create custom values in GoHighLevel and use them throughout the platform.
You can use them in funnel pages, workflows, emails, SMSs, and message templates.
This means that you can add information to GoHighLevel in one location, and that information is used everywhere.
A custom value can even be a color Hex code, so you can use it to set the value of a font or background in a landing page or GoHighLevel website.
A good example is a company name. You can create it as a custom value and then use it in:
A Funnel landing page
Terms and conditions page
A workflow email or SMS
An email template
As part of an email footer
Where this shines is when used in conjunction with a Snapshot.
You can add custom values to a snapshot to represent the company logo, color scheme, company details, and more.
Then when you install a snapshot, you can update these custom values in one place, and GoHighLevel will add these values to the website, workflows and funnels, saving your hours of time in setup.
26. GoHighLevel Integrations
GoHighLevel has some built-in integrations and can integrate with thousands of others using integration apps like Zapier or Make (formerly Integromat).
The built-in integrations include:
Facebook
Google Ads
Google Analytics
Instagram
WhatsApp
Quickbooks
Clio
Stripe
Paypal
Google Business Profile
Shopify
WordPress
Mailgun
Twilio
Zoom
Outlook
Zapier – See our in-depth review of the GoHighLevel Zapier Integration
Read my in-depth review of the built-in GoHighLevel Integrations.
27. GoHighLevel SaaS Mode
If you resell ActiveCampaign, Keap, Mailchimp and other similar platforms, you will be lining the pockets of those apps.
GoHighLevel has been built to provide agencies with an extra income.
With SaaS mode, an agency pays $599/mth, and they can sign up unlimited clients with unlimited users and unlimited contacts.
Every dollar you make over $599 is yours to keep.
There are some key reasons why selling GoHighLevel in SaaS mode to your clients will revolutionize your income, your recurring income longevity, and the value of your business.
GoHighLevel Review of Pricing
GoHighLevel's pricing is the best in the marketing app space. There is no better pricing model for an all-in-one marketing platform.
There are 3 prices:
Agency Starter Account
Price: $97/mth
This account is meant for a single business owner and gives you unlimited users, contacts, and basically everything but for only one business.
Click to sign up for an Agency Starter Account.
Agency Unlimited Account
$297/mth
This account is meant for agencies and gives you unlimited users, contacts and unlimited accounts so you can sign up as many clients as you can.
Click to sign up for an Agency Unlimited Account.
SaaS Pro-Account
$497/mth
This account is meant for agencies who want to run their own SaaS, just like GoHighLevel. It has a few extra features over the Agency Unlimited Account, like the Eliza Bot and split testing on funnels.
But the big difference it has the ability to set up clients on the monthly recurring plans, take payments, and can rebill clients for Twilio, Mailgun, Yext, and other services.
Click to sign up for a SaaS Pro Account.
Click to read a detailed explanation of GoHighlevel Pricing.
The Best GoHighLevel Training
There are not many great GoHighLevel training resources around as the company is still very young, and there aren't many practitioners of GoHighlevel who have extensive experience with the platform and are willing to train others.
There are 4 primary resources I recommend. They are:
Read my in-depth review of these GoHighLevel Training Resources.
GoHighLevel Review Summary
I hope this GoHighLevel review has helped you decide whether GoHighLevel is the best platform for you and your client's businesses.
GoHighlevel has transformed my marketing agency because I can now deliver more features in a fraction of the time. It helps me build recurring income, and my clients are amazed at the value I bring with Gohighlevel.
I want to encourage you to give it a try.