What is GoHighLevel?
GoHighLevel is is an all-in-one marketing platform that gives you all the tools you need to generate leads and close more sales online.
Understanding GoHighLevel Pricing will ensure you choose the best plan for your business and you can grow into the next pricing level up only when you need to.
One of the best things about GoHighLevel is that it's built by a marketing agency for marketing agencies. With GoHighLevel, you can sell the platform as your own and efficiently manage and set up client accounts. So whether you're looking to promote your own business or offer GoHighLevel as a service to your clients, this platform makes it easy to set up and manage marketing campaigns.
Some of the tools GoHighLevel provides are:
Marketing Automation
CRM
SMS Marketing
Appointment Scheduling
Membership Sites
Forms and Survey Builder
Funnel and Landing page builder
Website Platform
Reputation Management
There are many more features, and you can read about all of them in my GoHighLevel Review.
GoHighLevel Pricing Plans Explained
GoHighLevel has three different pricing plans with an additional upgrade for a mobile app.
GoHighLevel Pricing can be a little confusing as the plan outlined on the homepage differs from the plan names when you try to upgrade in the app.
Here is the explanation:
GoHighLevel Agency Starter Plan – $97/mth
GoHighLevel Agency Unlimited/Freelance Plan – $297/mth
GoHighLevel Agency Agency Pro Plan – $497/mth
White Label Mobile App + Custom Zap Upgrade – +$497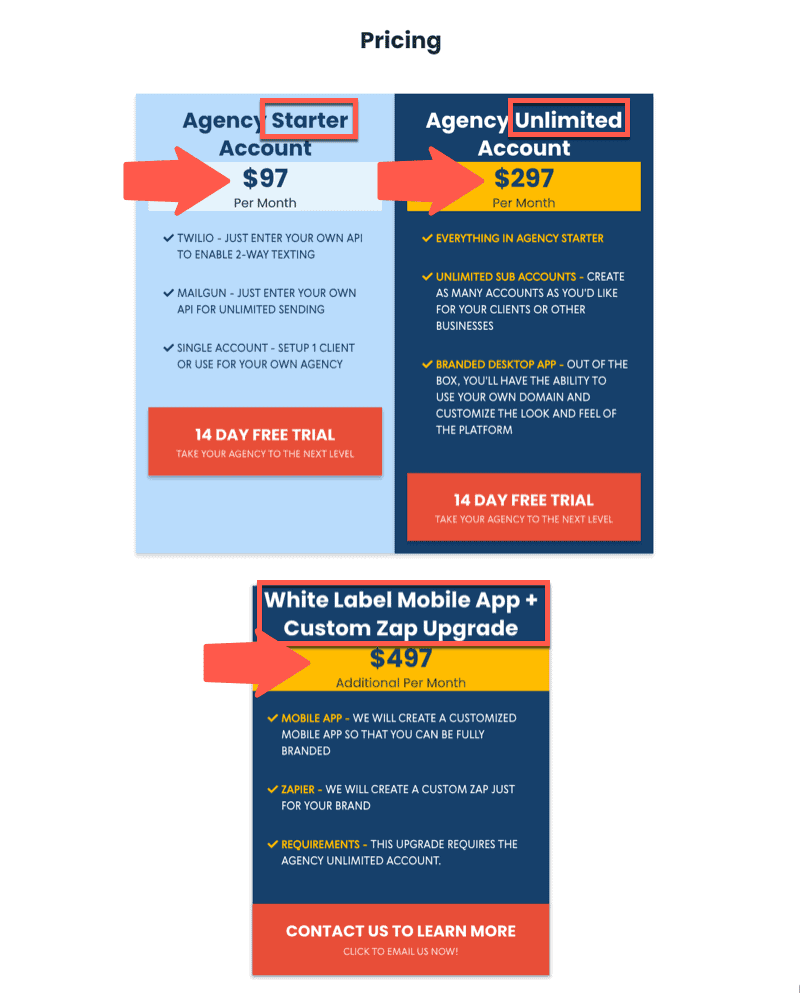 Does GoHighLevel Have A Free Trial
GoHighLevel has a 14-Day Free Trial, including all features with no limitations.
Click To start your 14-Day Trial of the Agency Plan.
How Much Is The GoHighLevel Agency Starter Plan
When you sign up for the Agency Starter Plan, you pay just $97/mth, which gives you access to all the features for one business, including unlimited contacts and users.
The Agency Starter Plan is perfect for an agency testing out GoHighLevel or wanting to use it to run its campaigns.
It is also a good option if you want to start using GoHighLevel for clients, but you don't want to invest in the Agency Unlimited plan for $297/mth.
You can sign up for as many individual clients as you can afford.
Click To start your 14-Day Trial of the Agency Starter Plan.
How Much Is The GoHighLevel Agency Unlimited/Freelance Plan
When you sign up for the Agency Unlimited/Starter Plan, you pay just $297/mth, which gives you access to all the features for unlimited accounts, contacts and users.
You can pay just $297/mth and then on-sell GoHighLevel to as many clients as you want. You charge your clients any monthly fee you like, and all you have to pay GoHighLevel is $297/mth.
This is the best opportunity for marketing agencies to earn a recurring income. It has the highest margins for any affiliate program on the marketing today for a marketing app.
Click To start your 14-Day Trial of the Agency Unlimited Plan.
How Much Is The GoHighLevel Agency Pro/SaaS Plan
When you sign up for the Agency Pro/SaaS Plan, you pay just $497/mth, and you get access to everything in the Unlimited/Freelance plan plus:
Build a real SaaS company – GoHighLevel adds the ability to sell GoHighLevel as your own SaaS and take recurring payments through the platform.
Resell Twilio, Email, Yext listings, and WordPress as part of their monthly payment
Split testing funnels
Eliza Bot – You can sign up clients through the GoHighLevel Platform and take payments. This includes
it is important that you understand GoHighLevel Pricing because you don't want to upgrade to the Pro/SaaS plan before you need to and for many agencies they never will have the need to.
When you look closely at the GoHighLevel pricing for the Pro/SaaS plan you will see that unless you want to take payments through the GoHighLevel you pretty much get everything you need.
But upgrading, downgrading, taking payment and reselling Twilio, WordPress and Yext will be a manual process.
The Pro Plan will save you much time if you are reselling these services.
Click To start your 14-Day Trial of the Agency Pro Plan.
What is the White Label Mobile App + Custom Zap Upgrade?
If you are on the GoHighLevel Agency Pro Plan for an extra $497/mth, you can add the following features:
White Label Mobile App – GoHighlevel has a mobile app called Lead Connector. They called the app Lead Connector instead of GoHighLevel so agencies could promote it without the GoHighLevel branding. Lead Connect is a generic brand. Suppose you want the mobile app to reflect your brand. In that case, GoHighLevel will customize the app and allow your clients to download it from the Apple and Google app stores under your brand with this upgrade.
Custom Zap with your branding – GoHighLevel will also create a Zapier integration and add it to Zapier to use your brand. This is just a rebrand of the Zapier integration they already have under the Lead Connector brand.
Can You Upgrade The GoHighLevel Plans?
Yes, you can upgrade and downgrade the GoHighLevel pricing plans at any time.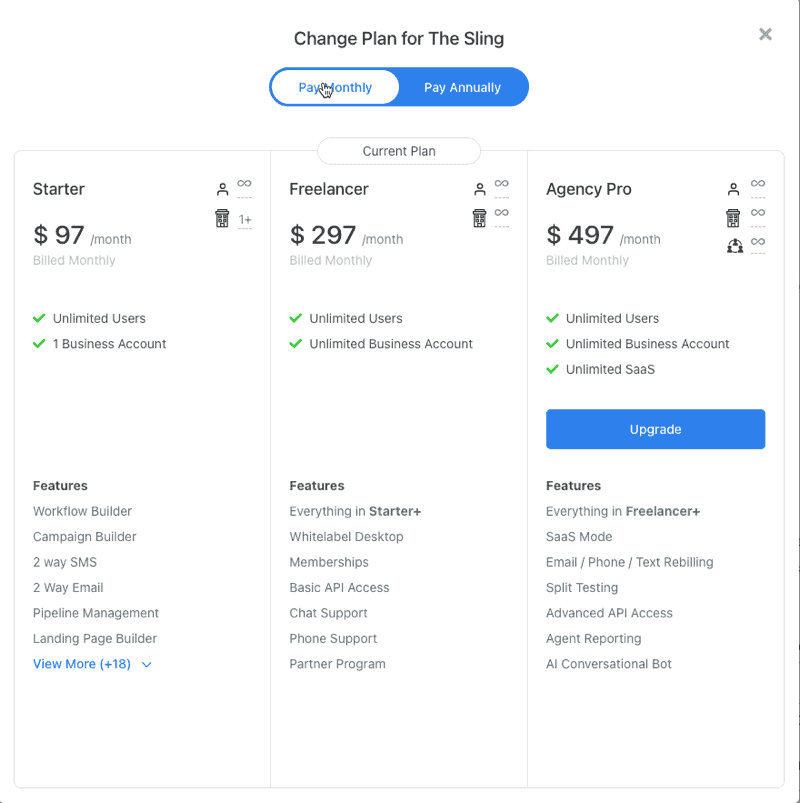 Does GoHighLevel Have An Annual Discount?
GoHighLevel will give you two months free if you pay annually on all plans.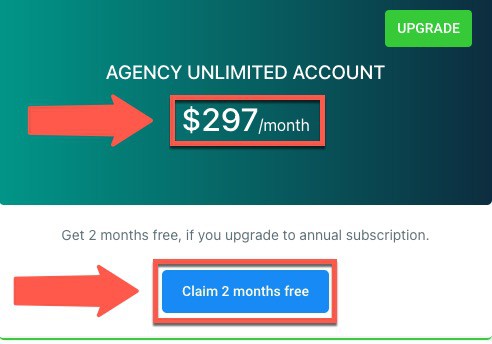 How to Sign Up For GoHighLevel Pro/SaaS Mode?
You can sign up for the Pro or SaaS mode account on the Agency Dashboard for $497/mth. It is a small investment to make for the benefits it offers.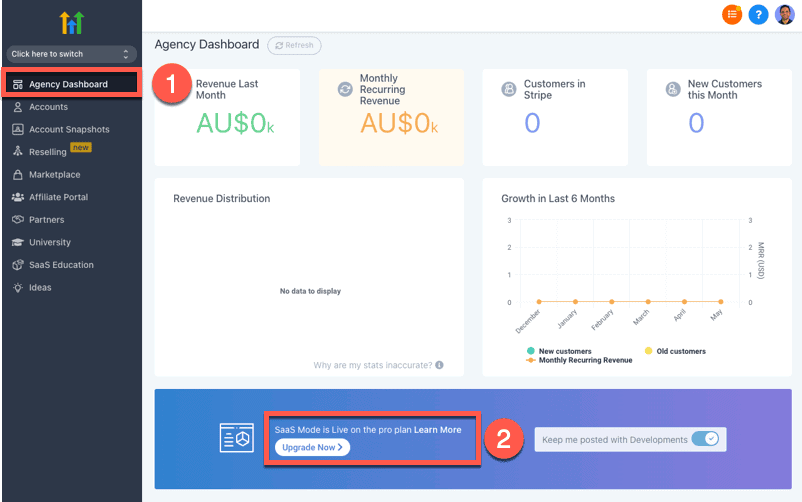 Are There Additional Costs?
Yes, there are, but they are not substantial. You don't mind paying these costs because they make the service better for you and your clients.
So over and above your GoHighLevel monthly fee, there are the additional costs:
Twilio for SMS
GoHighLevel allows you to send SMSs and make phone calls directly from the desktop and mobile app.
You have to sign up for a Twilio account and purchase a phone number starting at $1/mth in the United States to enable these features.
To send and receive SMSs, Twilio will charge $0.0075 per message.
I use this feature in my business every day. The great thing is that SMS is two-way to have an SMS conversation with a prospect right from the app.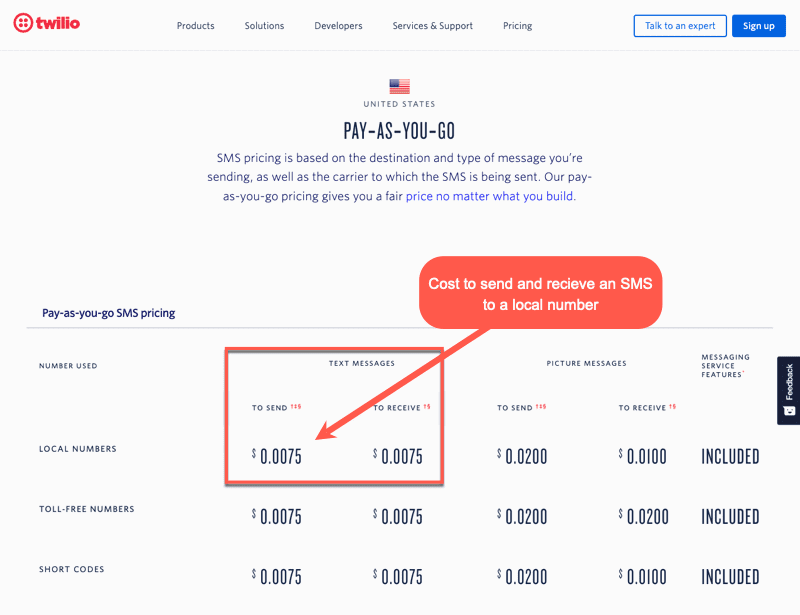 Twilio for Phone Calls
Again Twilio is used for calling and receiving calls in GoHighLevel.
The cost to make a call is $0.013/minute and to receive a call is $0.0085/minute in the United States.
You can also start each call with one click to call from the desktop and mobile app, which saves so much time.
GoHighLevel can also record the phone calls so you can review them later to help coach your salespeople.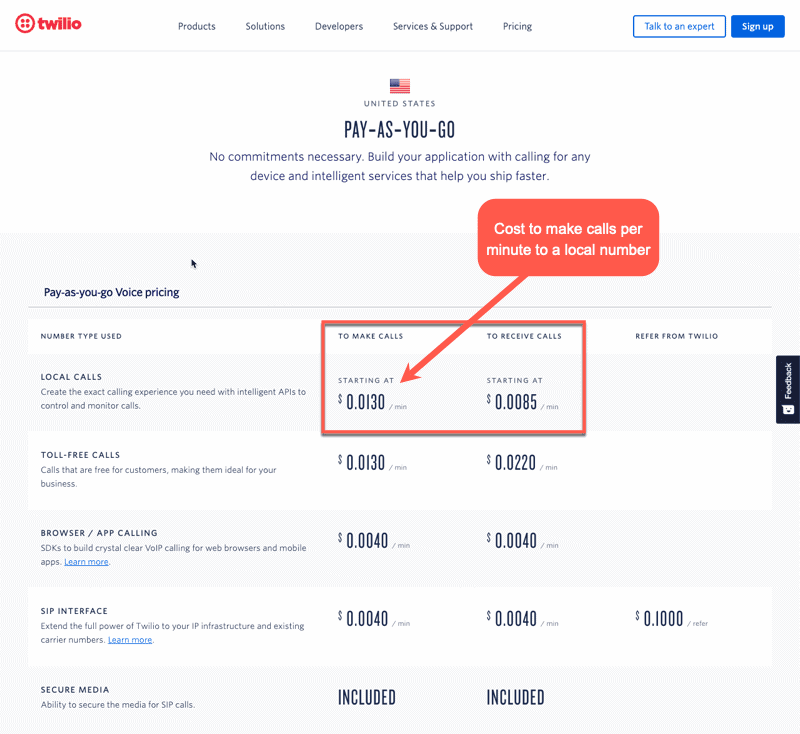 Mailgun
GoHighLevel allows you to send emails using its Mailgun account, but I don't recommend you use it at this stage.
Shortly, they will release their mail service integrated into SaaS mode, and will be the first to try this out, hoping I can use it instead of Mailgun.
Most agency owners sign up for a Mailgun account and send their emails through that platform.
You can give each of your clients their custom domain by doing this.
Mailgun has a range of pricing plans, but most agencies can start with the Foundation plan costing $35/mth and include 50,000 emails/month.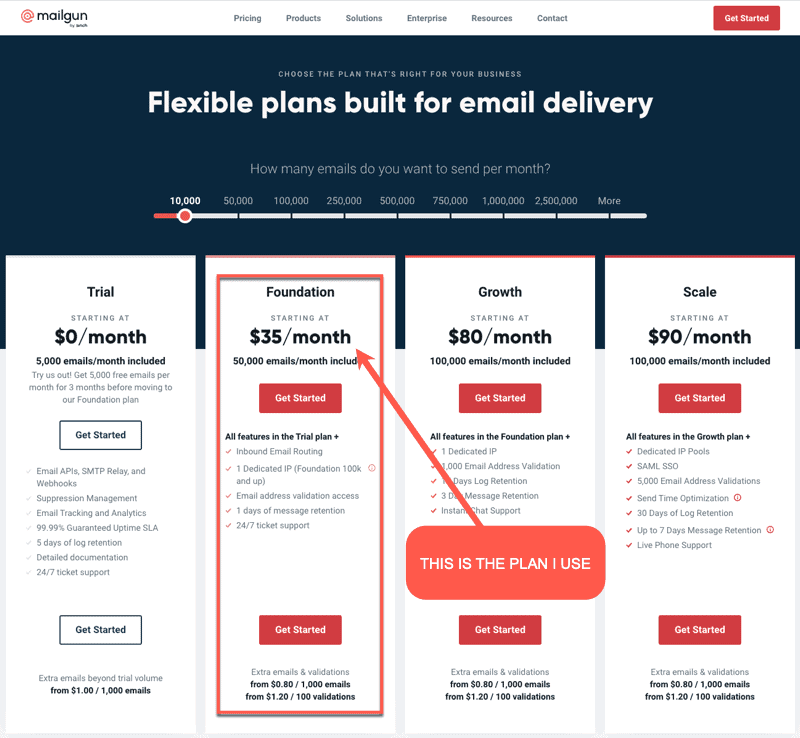 Who is GoHighLevel for?
GoHighLevel is best for:
Marketing Agencies: Marketing agencies can consolidate all their tools and charge a recurring income for GoHighLevel.
Local Businesses: The GoHighLevel feature set has been created specifically for local businesses. The features like Reputation management, workflows, email marketing, and two-way SMS will help grow any local company.
Sales Teams: GoHighLevel helps sales teams because the sales pipeline is full integration with the marketing funnels. This helps sales teams track their prospects and know exactly when each prospect is ready to be called.
Marketing Teams: There are many marketing apps and tactics marketing teams have to stay on top of today. GoHighLevel enables your team to keep things simple, save money on marketing apps, and push the limits of their marketing campaigns.
Click To start your 14-Day Trial of the Agency Plan.
What software can GoHighLevel Replace?
GoHighLevel can replace around ten different marketing apps saving your clients hundreds of dollars.
Even better is that you can charge your client $300/mth and still save your client hundreds per month.
Below is a list of the software GoHighLevel replaces.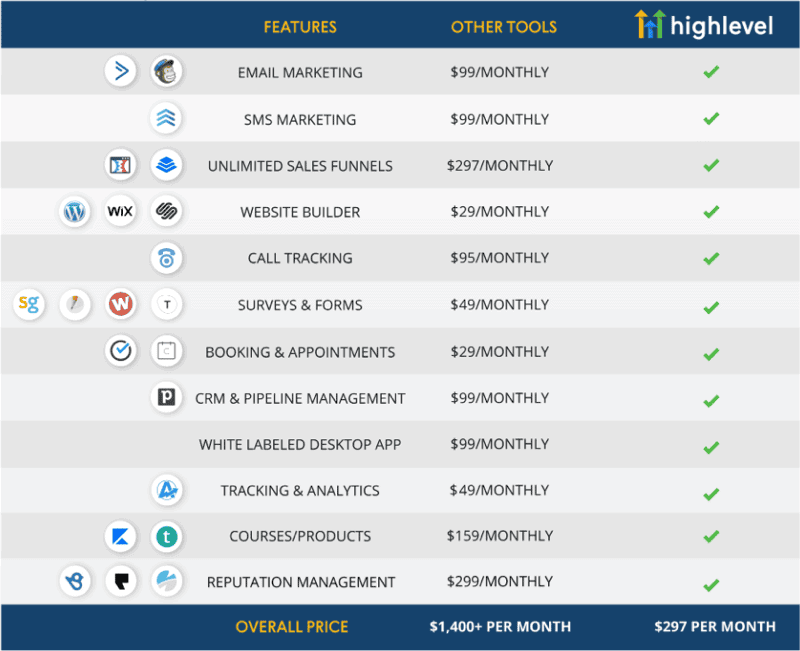 Click To start your 14-Day Trial of the Agency Plan.
GoHighLevel Pricing Recommendation – Should you buy it?
I have been using GoHighLevel for the last 18 months, and I recommend you use it. I have moved my whole business and all my client businesses onto GoHighLevel.
Recommendation for Business Owners
If you are a business owner, I recommend moving all your marketing platforms into GoHighLevel. My main reasons for this recommendation are:
You will save money
Less integration between 3rd party apps
Easier to maintain one piece of software
GoHighLevel's feature set is perfect for small business
Click To start your 14-Day Trial of the Agency Starter Plan.
Recommendation for Marketing Agencies and Web Designers
If you run a marketing agency, I recommend you move to GoHighLevel, but for different reasons. They include:
GoHighLevel is an all in one platform
One platform means fewer integration headaches
You can make recurring income when you sell GoHighLevel
No work is required for this type of recurring income
It is cheaper for clients to invest in GoHighLevel than ten other platforms
You can get clients up and running in a fraction of the time with the Snapshots feature